Monday, 23rd August 2021
Walk:
Burnley Road, Stoney Royd Lane, Harley Wood, Greenhurst Hey, Todmorden Centenary Way, Windy Harbour Lane, Eastwood Road, Bride Stones, Kebs Road, Mount Lane, Mount Cross, Hartley Royd, Hudson Moor, Calderdale Way, Burnley Road
Start Point:
Todmorden Leisure centre car park (free)
Grid Reference:
SD 927 248
Distance:
7.9 miles
Ascent:
1,296 feet
Time:
4.5 hours
Weather:
Sunny with a cool breeze
Comments:

Route taken from internet search. Instructions not always clear so more time spent navigating than usual. An enjoyable walk with good views and lots of rock formations to explore at the Bride Stones.

Point to note: this walk took place the day after I achieved the Country Walking 1000+ miles virtual walk from Land's End to John 'O Groats. Now for another 500 miles by the end of the year!
Looking back into the valley - didn't spot the birds when taking the photo
Zooming in on them, possibly sparrowhawks?
Approaching the Bride Stones . . .
where we find The Bride . . .
and possibly The Groom which toppled over long ago
More rocks to explore . . .
and more
The trig point catches the wind . . .
as Sheila joins me (Marie's shot missing as her eyes were closed)
Continuing on we leave the stones behind . . .
then spot more formations . . .
as we pass Hawks Stones on Keb Road
Also on Keb Road, 'The Best Meal in Town' - perhaps a few decades ago!
Mount Cross dates from 7th and 11th centuries . . .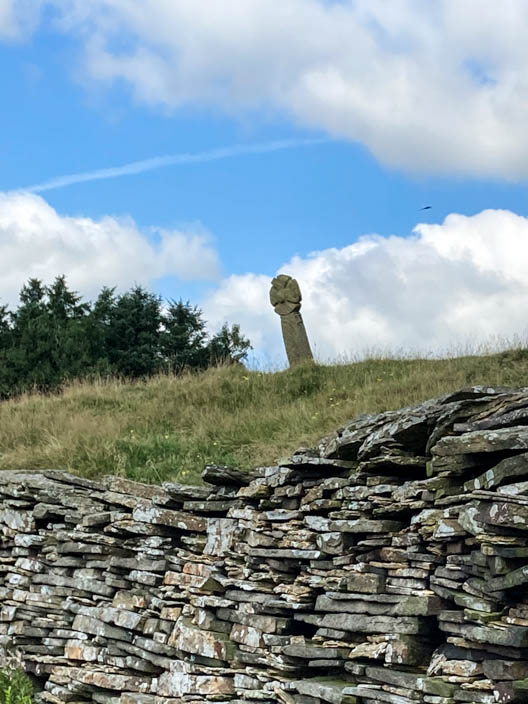 and is believed to be the oldest religious monument in the area
Hartley Royd, a Grade II listed building was built early in the 17thcentury.
The heather on this part of the walk is still vibrant