Sunday, 19th September 2021
Walk:
Friar's Crag, Calf Close Bay, Cat Gill, Walla Crag, Rakefoot, Springs Wood, Ambleside Road
Start Point:
Holiday Cottage
Grid Reference:
NY 266 236
Distance:
6.6 miles
Ascent:
1,140 feet
Time:
3 hours
Weather:
Mainly overcast with rain towards the end
Comments:
A gentle walk beside Derwent Water provided dome good views but these were intermittent due to low cloud. The climb beside Cat Gill was a bit of a shock as it led steeply upwards sometimes over stepped rocks and at other times using tree roots as steps. From Walla Crag it was a gradual descent on easy terrain. As we reached Rakefoot it started to rain quite heavily so we decided to miss out Castlerigg stone circle and head back to Keswick.
Landing stages on Derwentwater . . .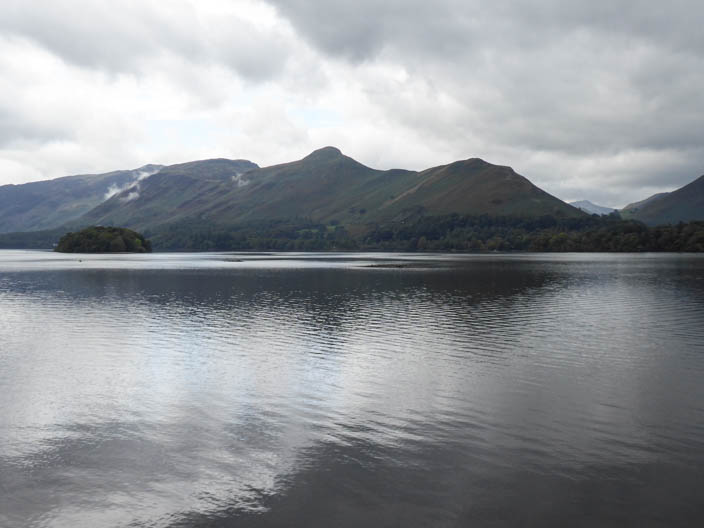 with views to Cat Bells . . .
and Causey Pike
Castle Crag comes into view from Friars Crag . . .
where there is a memorial stone to John Ruskin
Another view of Cat Bells also shows Maiden Moor and Dale Head
Zooming in on Castle Crag, the only Wainwright less than 1,000 feet
A large split boulder of local Borrowdale volcanic lava was placed on the boulder strewn shore of Calf Close Bay to mark 100 years of the National Trust in the Lake District.
Walla Crag overlooks Derwentwater and Keswick . . .
but there is too much low cloud . . .
to see Bassenthwaite