Internationally renowned for its scenic beauty and scientific interest Killarney National Park encompasses the three Lakes of Killarney and mountains and woods which surround them. The National Park protects the most extensive area of natural oak woodland remaining in Ireland as well as characteristic plants, such as the Arbutus. On the mountain slopes roam the only herd of red deer which have been here since the end of the last Ice Age. At the heart of the National Park is the Muckross Demesne, centred on Muckross House and Gardens, and Muckross Traditional Farms. Many exotic trees and shrubs flourish in Muckross Gardens in the mild climate and sheltered location.

A worthwhile detour before reaching Muckross House and Gardens is the walk to Torc Waterfall and mountain. A scenic footpath leads up the mountain slope to the 60 foot Torc waterfall. Continuing on is a four mile round trip to the summit of Torc Mountain with its great views over the Killarney Lakes.
Scroll down to see photos of the walk and visit to Muckross Gardens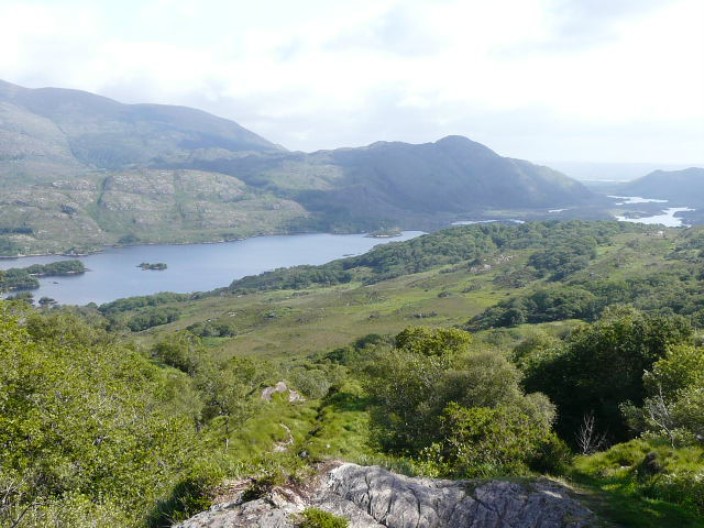 The Killarney Lakes from one of the outlook points along the road
Torc waterfall . . .
not as impre4ssive as some we have seen
The Killarney Lakes from the path up Torc Mountain
Duck boarding provides an easy route . . .
and a spot for 'elevenses' . . .
from here we can see the Upper Lakeland to the south . . .
whilst the summit provides a great view over the lakes to the north . . .
but there's not a lot of space here to take time out . . .
From the bridge near the waterfall seen earlier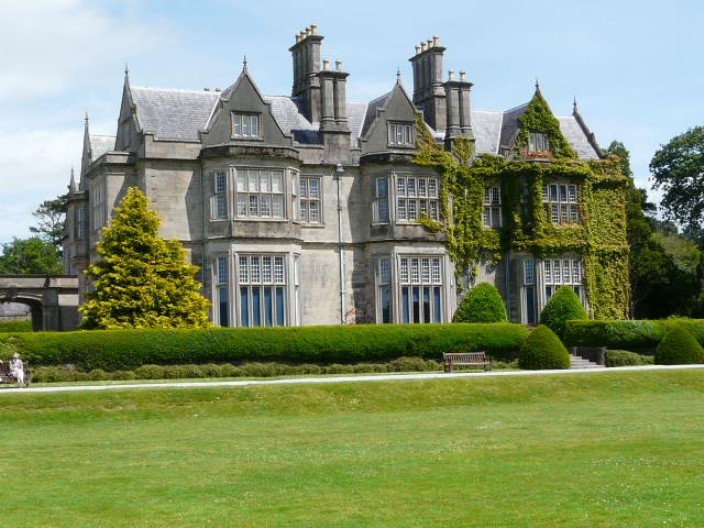 Muckross House . . .
and Gardens . . .
where a group of children are enjoying themselves . . .
and tourists take a trip in a jaunting car . . .
and Marie explores the woodland walk