Monday, 7th April 2008
Walk:
Scaly Moss, Grike, Crag Fell, Whoap, Lank Rigg, River Calder
Start Point:
Scaly Moss
Grid Ref:
NY 060 136
Distance:
8.6 miles
Ascent:
2,225 feet
Weather:
A fine but dull day with some mist in the valleys. Still quite cold with a covering of snow.
Accompanied by:

Marie, Andrea, Gill & Shep, led by me

Comments:
A gradual climb up to Grike was welcome after the initial steep climb yesterday. Some good views but a little hazy. Some undulations across to Crag Fell and Whoap, but a longer climb up to Lank Rigg. Walked across to the shelter, where Wainwright indicates a Tumulus, to have lunch. We all enjoyed the stroll back down the valley but I think the last climb over the hause was a bit of a surprise to Gill and Andrea.
Scroll down to see photos of the walk
Egremont with the sea beyond, from the path up to Grike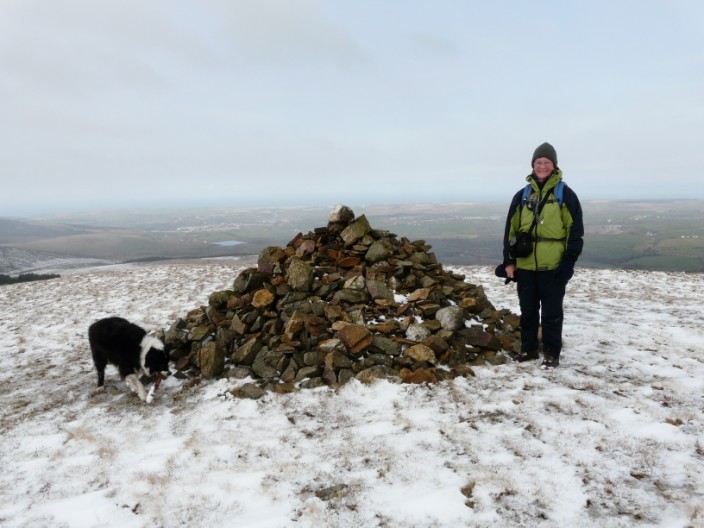 Still quite a bit of snow around as Shep looks for a stick on Grike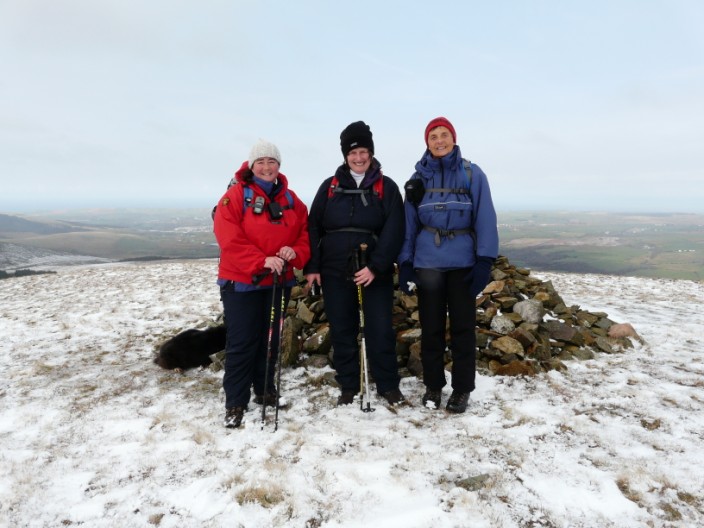 Are those smiles or grimaces - it's cold on Grike
The wind turbines stand out quite clearly even though it is a little hazy in the distance, looking over Ennerdale
Gill and Shep pose for the camera on Crag Fell
Looking down on Ennerdale Water brings back memories of the Coast to Coast walk a couple of years ago
Crag Fell in the foreground with Grike, where we have just been, in the distance
Still in winter gear on Crag Fell
We tried to find some shelter for lunch on the way down to the forest from Crag Fell
Lank Rigg - or is it Lankrigg, depends which book you read
The cairn and trig point on Lank Rigg from the cairn near where the tumulus is marked