Tuesday, 8th April 2008
Walk:
Scarth Gap, Haystacks, Innominate Tarn, Warnscale Bottom, Buttermere, Grassgarth Coppice, Rannerdale Knotts & return
Start Point:
Gatesgarth Farm
Grid Ref:
NY 194 149
Distance:
8.2 miles
Ascent:
2,835 feet
Weather:
A very frosty morning, clear skies and good views but still some snow on the higher fells.
Accompanied by:

Marie, Andrea, Gill & Shep, led by me

Comments:
As we drove past Buttermere the water was like glass and the addition of a heavy ground frost made ideal conditions for photos of reflections in the lake. We climbed Scarth Gap pass quite easily but the route up Haystacks required more care due to ice and snow on the path. It was quite warm when we found a sheltered spot for lunch, overlooking Innominate Tarn. We descended by Warnscale Beck where the path was clear of ice and snow. As we arrived back at the cars quite early we decided to drive to Buttermere village and walk across to Rannerdale Knotts. There were more undulations than we remembered and we were all pretty tired by the time we had finished.
Scroll down to see photos of the walk
The conditions on Buttermere are perfect for photos of reflections . . .
and we make the most of the opportunity . . .
by taking lots of different shots . . .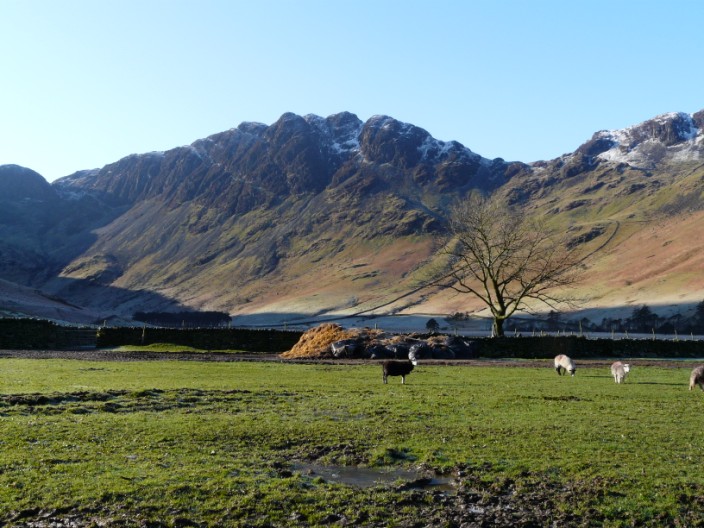 before concentrating on the view of Haystacks . . .
and the puffball of cloud on High Stile
Even the sheep manage to get in the shot while . . .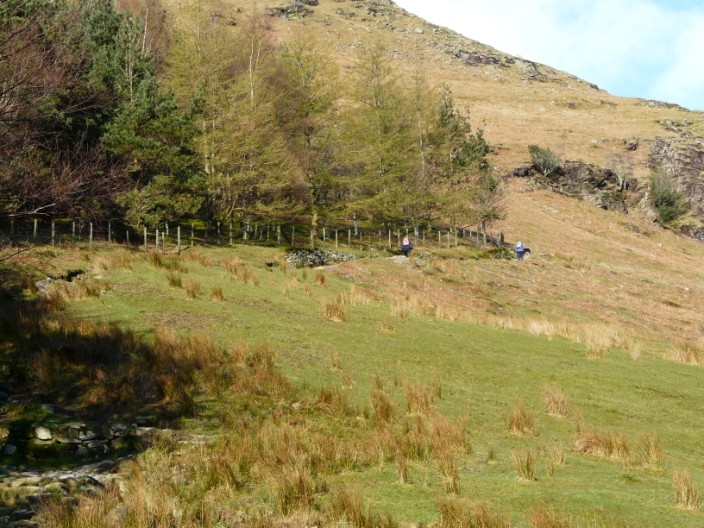 Andrea and Gill take advantage of the opportunity to get ahead . . .
but zooming in they don't look too far away
High Bank and Goat Crag come into view as we start to climb Scarth Gap Pass . . .
and Gill enjoys the snow on the path - but just wait till the final ascent of Haystacks!
Rannerdale Knotts looks pretty small from higher up the pass . . .
and higher still Crummock Water comes into view beyond Buttermere
On the route up Haystacks Ennerdale Water peeps round the corner of Seat . . .
and we have a good view of Green Gable, Windy Gap and Great Gable at the head of the Ennerdale valley . . .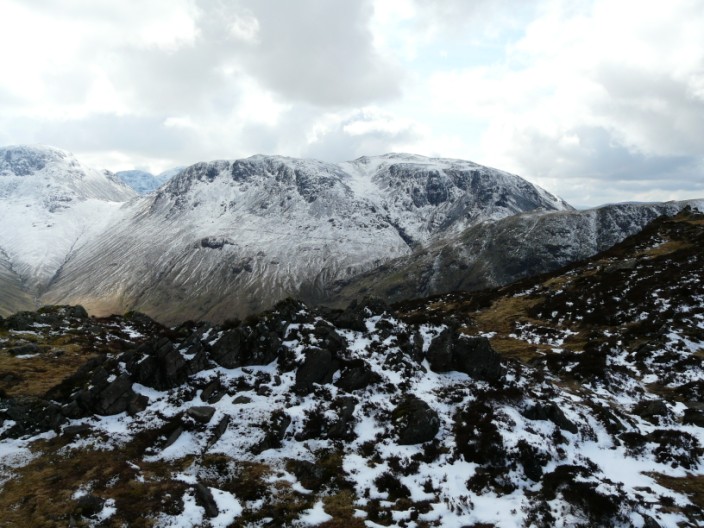 while Kirk Fell appears to their right
Yet another view of Buttermere and Crummock Water - it really is a great day for photographs
The cairn on Haystacks is reached at last . . .
and Shep checks out Innominate Tarn
Heading down towards Blackbeck Tarn it must have been pretty cold overnight
and the tarn itself looks rather bleak
Hassness, the Ramblers property, can be seen in the trees to the right of Buttermere . . .
and Marie checks for any footpaths on the Haystacks side of Warnscale Beck
We decide to stick to the main path on the other side and are rewarded by this waterfall
We meet quite a few people heading down and up the track
After an early finish we decide to tackle Rannerdale Knotts . . .
and have a sunny end to the day . . .
but I think Shep has decided that he has had enough
Looking North we can just see our cottage at Foulsyke, with Loweswater on the left . . .
and have one more last look back across Buttermere