Stanage Edge
Tuesday, 16th April 2013
| | |
| --- | --- |
| Distance: | 10.8 miles |
| Total Ascent: | 3,500 feet |
| Time: | 5.3 hours |
| Weather: | Sunny spells with a touch of rain at the beginning. Extremely windy on the ridge |
We The plan for this walk uses the car park in Hathersage but we used the one at Upper Burbage Bridge (free). Our first visit was to Higger Tor with its interesting rock formations. From here we headed down to Hathersage just in nice time for a coffee. A gradual climb took us past Brookfield Manor and North Lees Hall before the final climb onto Stanage Edge. By this time the already strong and blustery wind had increased in strength making walking quite difficult. It was eventually decided that conditions were becoming intolerable and we returned to an access point to make our way off the ridge. Our return route was then mainly by road, a distance of approximately 2.5 miles - fortunately a very quiet very minor road! A good walk but it was disappointing that we had to cut the walk along the Edge short.
Scroll down to see photos of the walk
A clear track took us to . . .
a rocky outcrop . . .
on the way to . . .
Higger Tor . . .
where Sheila inspects . . .
the various rock formations . . .
and tries this one out for size
A very young lamb
North Lees Hall . . .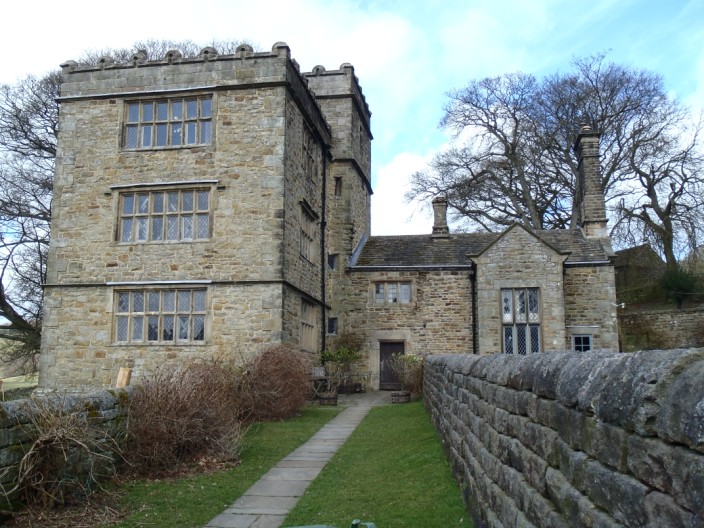 a sixteenth century tower house which is . . .
one of the buildings that inspired Charlotte Brontė to write about Thornfield in Jane Eyre . . .
and which is now available for holiday accommodation . . .
with great views over the surrounding countryside
Stanage Edge comes into view . . .
and information boards . . .
are available
Nearing Stanage Edge . . .
our route lies through woodland
A closer view of the rocky edge . . .
as we make our way along a snowy path . . .
Zooming in on High Neb . . .
but we turned around before we reached it . . .
and checked out more rocks . . .
and took a gradually descending path . . .
with a last view of the rocks
Three large boulders . . .
provide the perfect spot for lunch . . .
and our return route runs parallel with the Edge . . .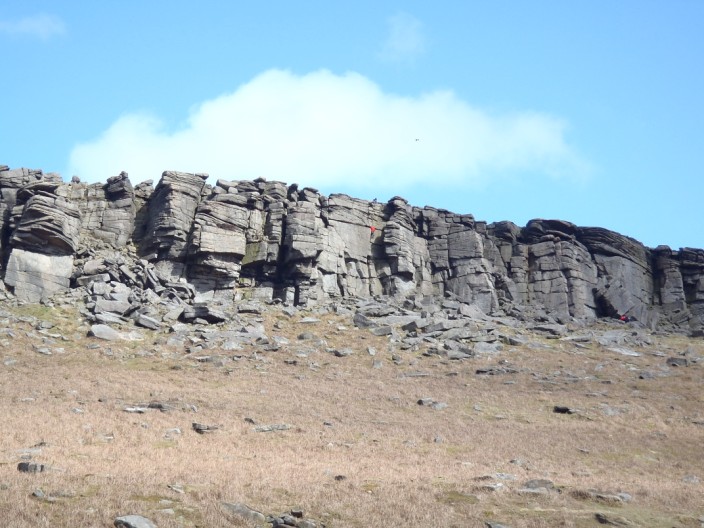 where a couple of rock climbers can be seen