Coastal Walk
Wednesday, 2nd February 2011

As this was a free day I decided to explore the route along the coast to the East of Puerto, visiting the Cafe Vista Paraiso (for the recommended Alpine Apple Cake) near Cuesta de la Villa. After descending into, and climbing out of Puerto the path followed the coastline. Bollullo beach was worth a visit, exploring the black sand and watching the waves - though I decided to forego the paddling! Another short walk brought me to the narrow track up a small ravine and onto another track between the many banana plantations. Where the track onwards was blocked by tall gates, the route turned away from the coast to a 600 ft steep climb over rough ground, to the road leading to the Cafe Vista Paraiso. Fortunately the cafe was just opening as I arrived and I was soon tucking into the Austrian Apple Cake with cream and ice cream!!!!!! As an extension to this route I walked into Cuesta de la Villa and located the path which descended steeply, but this time with steps and a handrail, and leading back to the path I had been on earlier. I then retraced my steps to Puerto where I spent some time before returning to the hotel.
12 miles, 1,000+ feet ascent, 8 hours including time spent in Puerto
Scroll down to see photos of the walk
Walking down through the park . . .
and back up at the other side of the barranco that runs through the town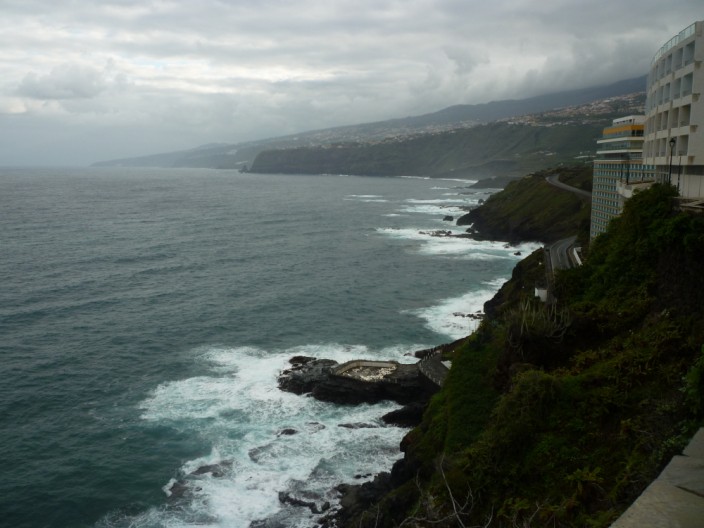 Steep cliffs run along the coast in the direction I am going . . .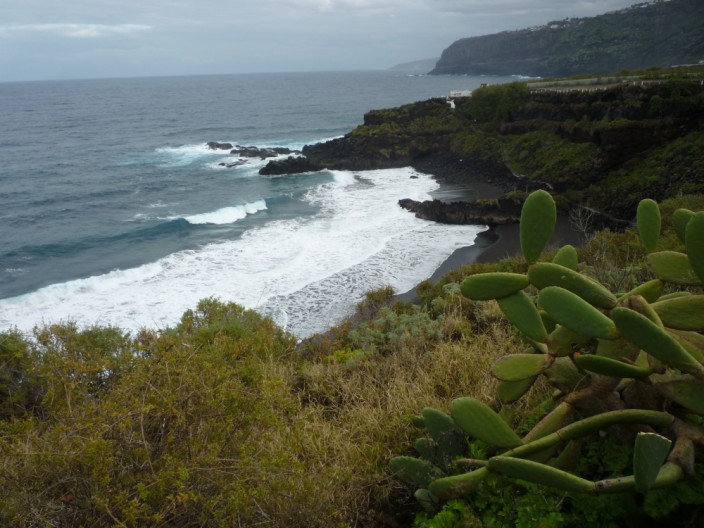 and there are a couple of beaches . . .
with Bollullo Beach being quite accessible
Waves pound over the rocks . . .
and onto the headland - where a couple are fishing
A few plants brighten up the lava rock . . .
and pebbles decorate the supporting pillar
Cuesta de la Villa comes into sight
and a large tree trunk is easily navigated
Time to turn inland . . .
and head up a small ravine
Bananas are everywhere . . .
but I don't think these are ready for eating yet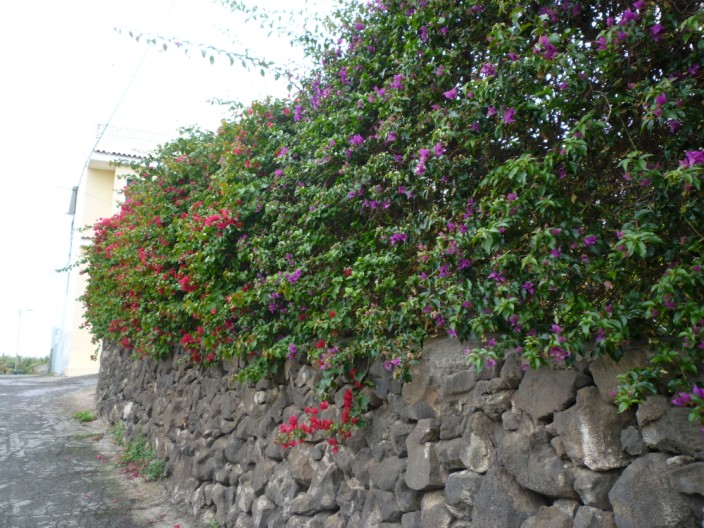 A colourful hedge . . .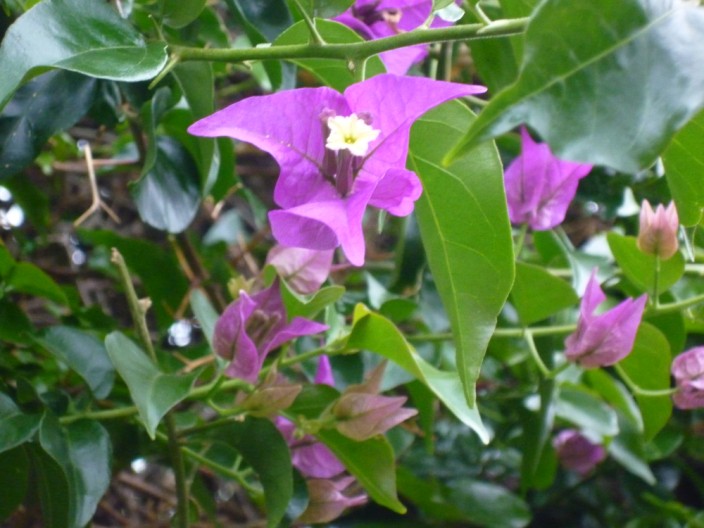 with interesting purple and . . .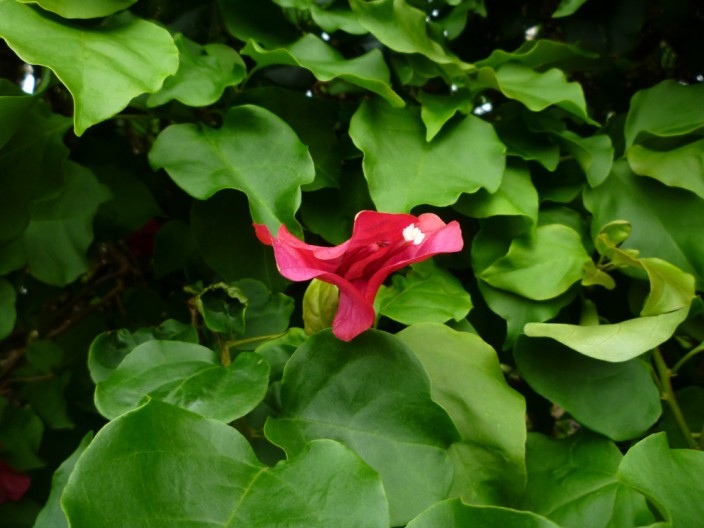 red flowers
Now for the main climb . . .
to the Cafe Vista Paraiso
Then it's time for the descent . . .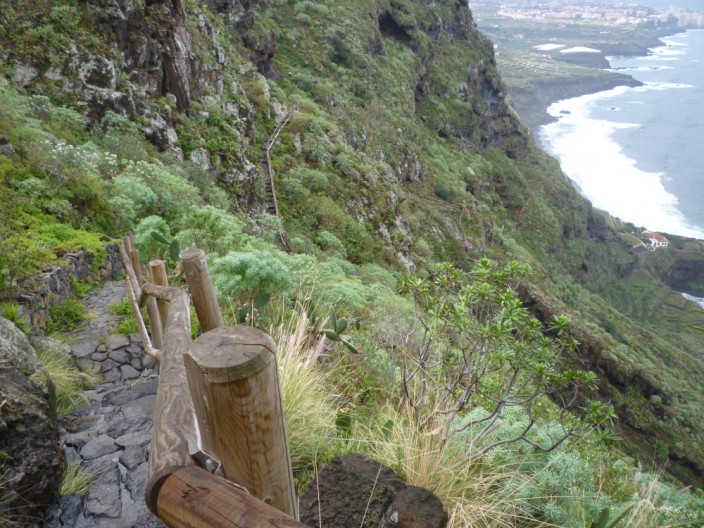 but this time there are steps and a handrail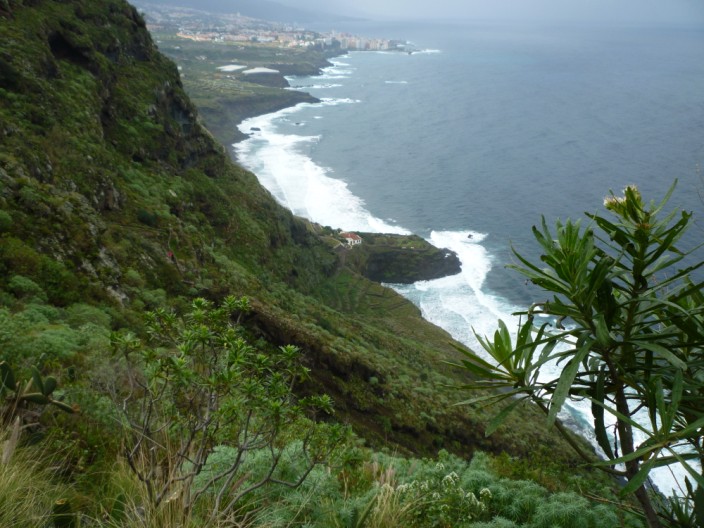 It is still pretty steep . . .
but not difficult
It's worth looking back once you get to the bottom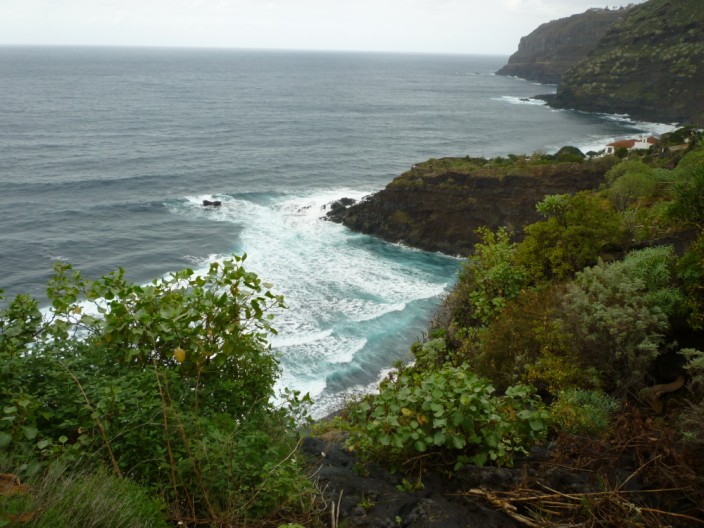 More views of the coastline . . .
as I make my way back . . .
past the original route up . . .
and onto the outward path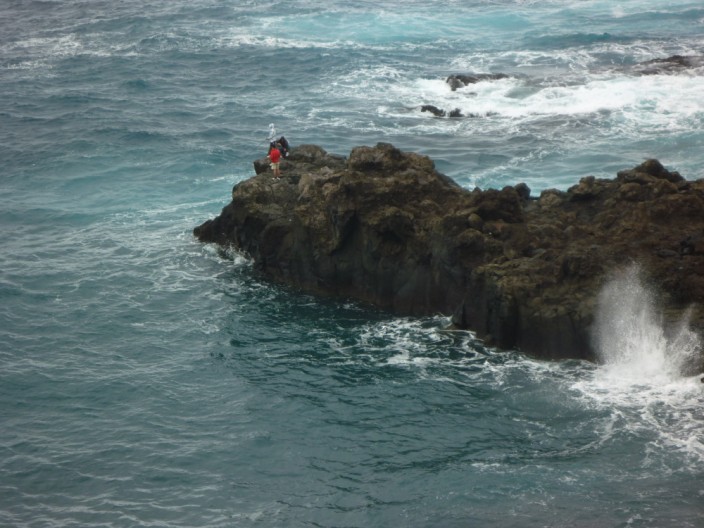 Some people are still fishing at Bollullo Beach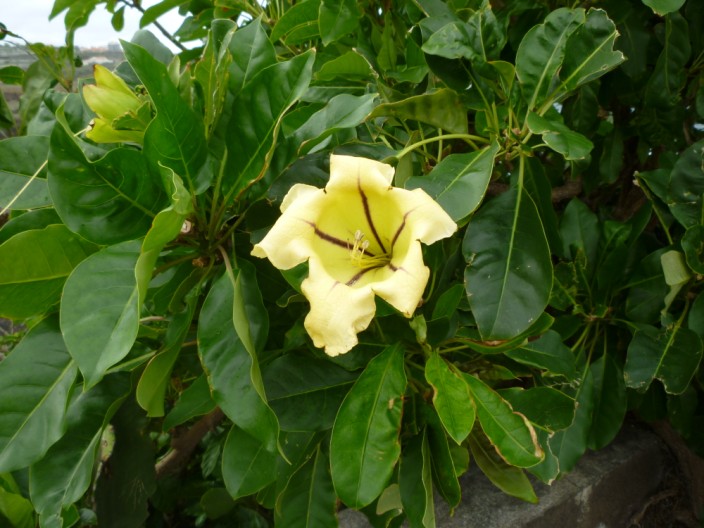 Another interesting flower . . .
adorns the bush
Arriving back in Puerto . . .
a pleasant walkway leads down to the beach . . .
Sun now highlights where I have just been . . .
and a few brave people enjoy the surf . . .
as the waves crash over the wall . . .
and onto the rocks