San Juan de la Rambla
Sunday, 30th January 2011

From the hotel we walked through the Parques Taoro and down the many steps in the Jardines Taoro, this being the main route to and from the centre of town. From the harbour we walked along the sea wall for a short distance before catching the local bus to San Juan. By this time it was raining heavily and all the waterproofs made their debut. Fortunately the rain eased off to a degree for the rest of the day, with some dry spells. We walked along the coast before heading inland to climb the barranco (ravine), emerging at a point on the road where we could catch the bus back to Puerto.
As it was only 3pm I made my way back to the harbour for a wander around the town. By this time the rain had stopped completely and the wind ensured that my waterproofs had dried out before returning to the hotel.
8 miles, 2,590 feet of ascent, 5 hours + 2 hours in Puerto
Scroll down to see photos of the walk
Heading down the steps in the Jardines Taoro . . .
with good vies over Puerto de la Cruz
Waterfalls enhance the gardens and take advantage of the steep descent
One of the churches we passed
A windy walk along the sea wall
Banana plants are everywhere . . .
and these leaves caught my attention
A wine press - no longer used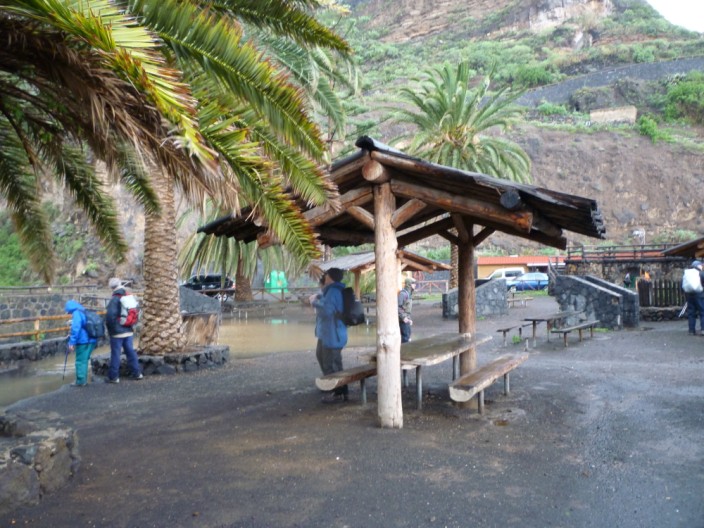 Shelter for our lunch stop . . .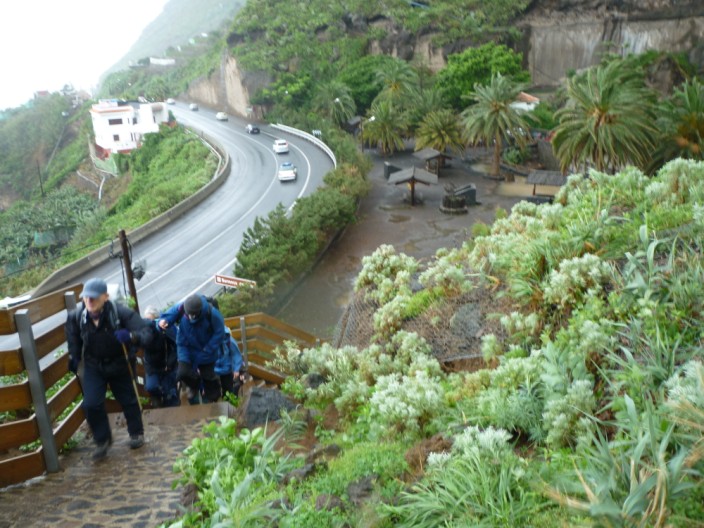 before heading up the barranco . . .
a deep ravine cutting into the hillside
Back in Puerto by the harbour . . .
and the rain has stopped . . .
as I take in some of the sights . . .
and watch the waves . . .
crashing over and around the rocks
Passing another church . . .
and the Loro Parque transport . . .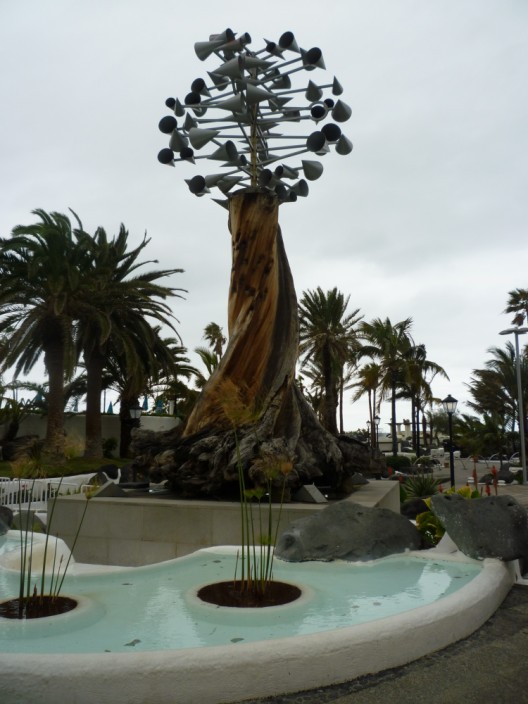 I walk past the entrance to the casino with its unusual sculpture