Orotava Valley
Monday, 31st January 2011

The coach took both groups to the start of their walks at and just past Aguamansa. We walked around La Caldera before heading out through the trees. Initially it was dry but the mist came in followed by rain. After walking through the forest for some time we followed the balcony path which made its way above the Organ Pipes. The path was narrow in places but the drop tended to have trees frequent enough to break the fall of any careless person! Because of the lack of suitable places to stop we had an early lunch (12.30pm) and a 2nd lunch an hour later. After traversing a deep barranco we eventually reached the descent, quite a steep route that zig-zagged down the hillside to the road where the coach picked us up.
8 miles, 2,100 feet ascent, 5.5 hours
Scroll down to see photos of the walk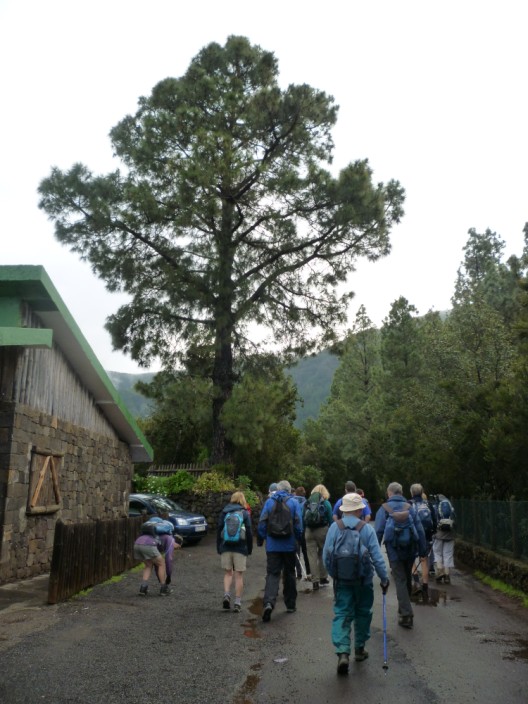 A little damp as we set off past the caldera . . .
and into the trees . . .
which are draped with lichen
The Canarian Pines . . .
can be identified by the fact . . .
that the needles are in groups of 3
The frequent mist at this altitude causes water to gather on the trees and percolate into the soil to be collected . . .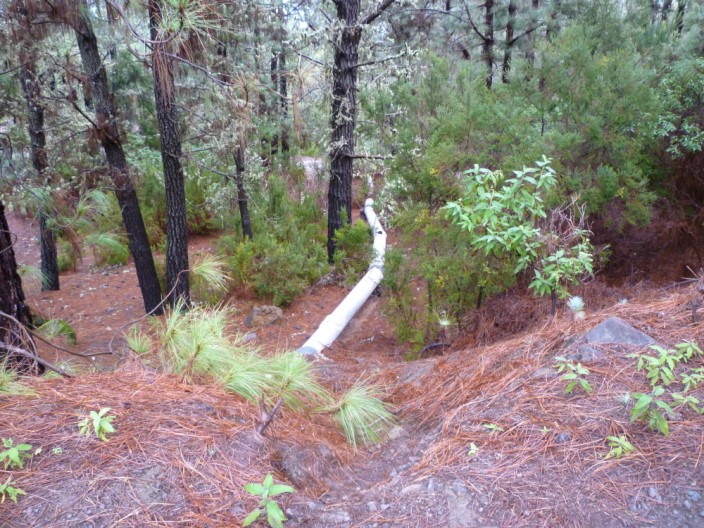 and transported down the hillside.
An easy path leads to . . .
a view of the Organ Pipes . . .
and interesting forested areas
A shelter marks our 'banana break'
Water adds to the 'fairytale' effect of the lichen on the trees
The path gradually narrows . . .
until we reach the 'balcony path' . . .
where it can be a little difficult to pass
A gap in the trees reveals that Puerto is sitting in the sunshine!!!
Can I have this one for my garden?
One of our lunch stops - and the mist closes in again
Time to descend . . .
past more 'fairytale' trees . . .
with the ever present lichen . . .
and across a forest track . . .
where an attractive sign shows the way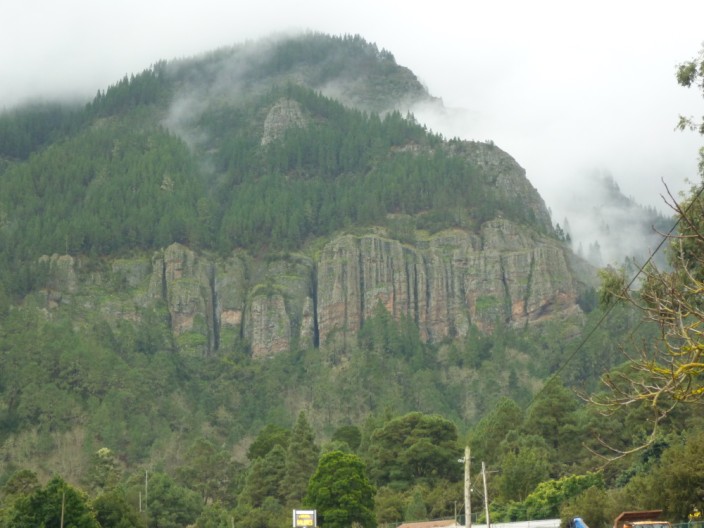 As we end the walk the Organ Pipes come into view - our path lay somewhere above them.