Anaga Peninsula
Friday, 4th February 2011

We drove east of Puerto to Tarborno stopping at viewpoint over La Laguna on the way. A ridge walk took us out to the Rock of Tarborno with great views of spectacular valleys and along the coast. A narrow path circumnavigated the rock and gave access to even more great views. After returning to our start point we headed down into the deep barranco, and up the other side to the small hamlet of Las Carboneras. A contouring path then took us around the hill to Chinamada where we saw a number of rock houses on the way to a viewpoint. Retracing our steps we arrived back at the coach for the last journey back to the hotel.
7 miles, 1,500 feet
Scroll down to see photos of the walk
La Laguna from a viewpoint en route
Rock of Tarborno
The rugged coastline . . .
and a tiny hamlet in the valley
The sun highlights the jagged rocks . . .
and the sound of bells draws our attention to the four goats amongst the rocks
Another view of the rock of Tarborno
Las Carboneras can be seen across the valley . . .
surrounded by terraced hillside
Looking east along the coast . . .
to the Roques de Tenejas
Heading along the ridge . . .
to the start of the path around the rock . . .
which begins with a short climb
The narrow path reveals . . .
more spectacular views . . .
of the coast in both directions . . .
and on the opposite side of the rock . . .
time to prove 'I was here'!
Pretty flowers adorn the route . . .
as we continue on our way . . .
around the rock
Time for another flower . . .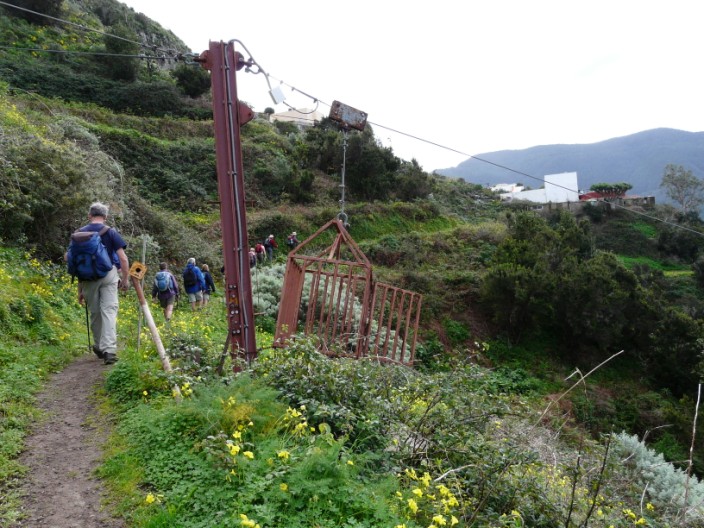 and a novel way . . .
of transporting items up and down the valley
The bottom of the valley . . .
and climbing back up to . . .
Las Carboneras
The sun highlights the Roques de Tarborno . . .
as we walk round to the next valley . . .
with more houses and terracing
The front of one of the rock houses . . .
as we walk round to . . .
another viewpoint . . .
with another one 'for the album'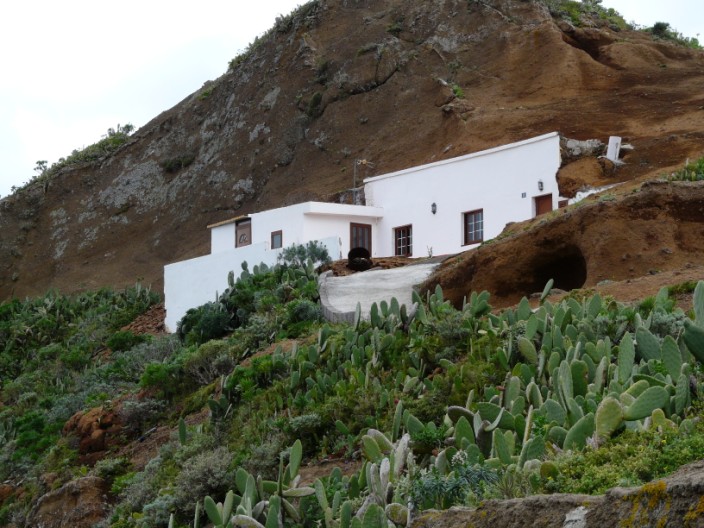 More rock houses . . .
as we make our way back to the coach