Wednesday, 22nd October 2008
Walk:
Hartsop, Brock Crags, Satura Crag, Rest Dodd, Rampsgill Head, High Raise, Kidsty Pike, Rampsgill Head, The Knott, Hayeswater, Hayeswater Gill
Start Point:
Hartsop
Grid Ref:
NY409 131
Distance:
8 miles
Ascent:
3,080 feet
Weather:
A dull start with some short light showers, clearing later with some sun
Accompanied by:

Marie

Comments:
Zigzagging up the flanks of Brock Crags it wasn't long before we reached the summit and although it was overcast we did manage to get some views. After heading back to Satura Crag we made our way up Rest Dodd then dropped down the South face before climbing to Rampsgill Head. From there it was a gradual climb to High Raise where there was quite a strong wind. After a brief stop we detoured to Kidsty Pike before making our way to The Knott. Following the rocky, and sometimes boggy, path we eventually arrived at Hayeswater Reservoir. We followed the Hartsop path for a short time then took a smaller path down to the Filter House, finding some picturesque waterfalls along the way. After crossing the beck it was an easy stroll back to the car - just as the rain started.
Scroll down to see photos of the walk
Gray Crag looks a long way up from here . . .
and Pasture Bottom would be enticing - but for the climb at the head of the valley
The beck looks quite full - not surprising with all the recent rain!
Sun catches the fields beyond Brothers Water and highlights the ridge to Hartsop Above How
It's a bit dull on Brock Crags but there is some sun on Sheffield Pike
Angle Tarn hasn't got its best dress on today - I don't think we could ever beat the Coast to Coast picture
Looking down Bannerdale with Beda Fell on the left and Steel Knotts to the right
A great view of Gray Crag, Thornthwaite Crag and High Street surrounding Hayeswater - we just need more sun
Lots of sun to the North - but not on Rest Dodd
As we head up to Rampsgill Head the sun arrives in Ramps Gill, with The Nab to the left
Looking back to Rest Dodd in the middle distance, with Place Fell behind
It's a rocky top at High Raise where we can just see Haweswater
But from Kidsty Pike . . .
we get a much better view of the reservoir - which looks quite full already
There is a sharp drop to the right of Kidsty Pike . . .
where we can look down to Riggindale . . .
or across to High Street, Gray Crag and Caudale Moor
The sun makes an appearance as we arrive back at Rampsgill Head . . .
where a gentleman was having lunch with his dog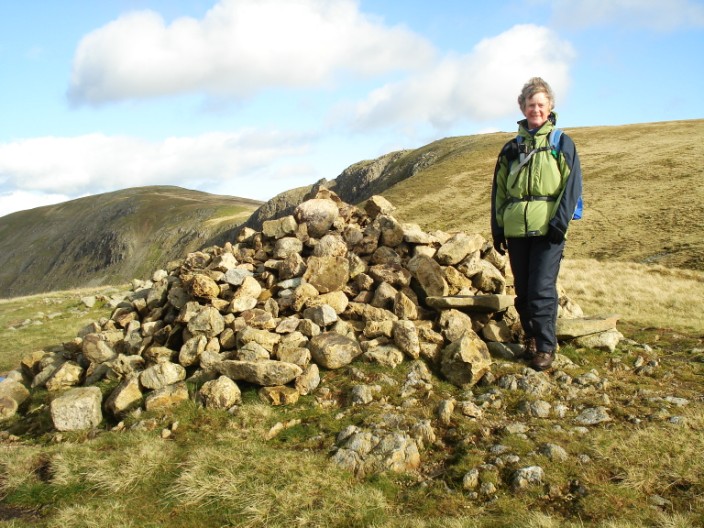 The sun peeps out again on The Knott, Rampsgill Head to the right of centre and High Raise on the left
Water always draws the camera out . . .
and there is plenty of it coming from the Hayeswater Reservoir . . .
where Marie gets in position for her shot . . .
and I try out a different angle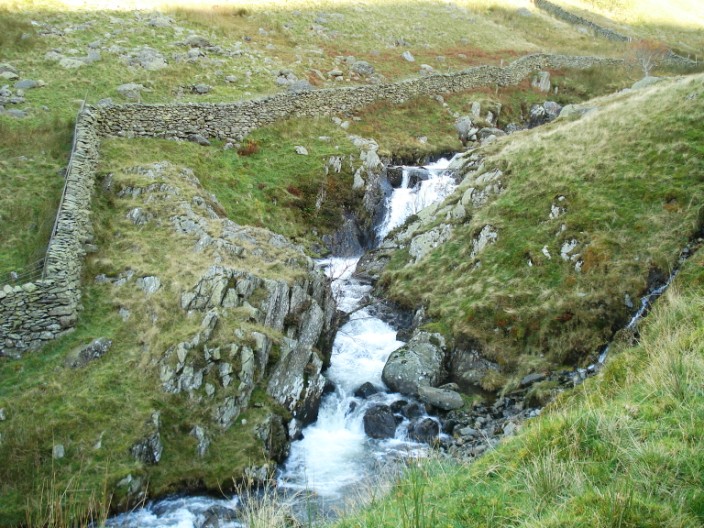 Heading down the gill there are lots of waterfalls . . .
and every one . . .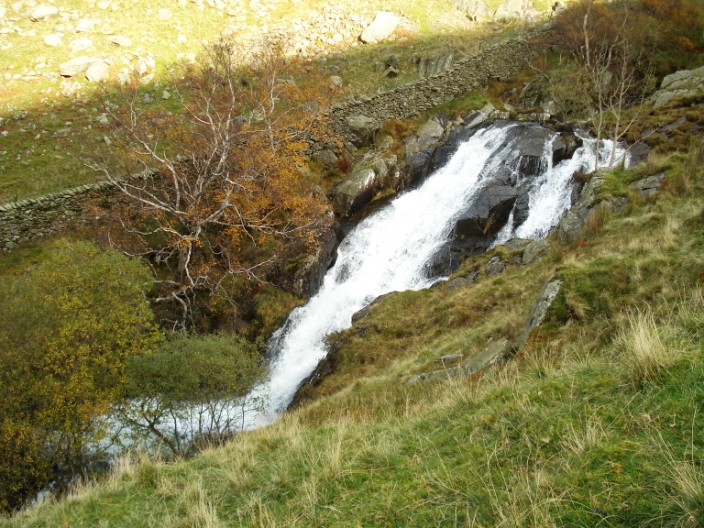 provides another photo opportunity . . .
and we head off the main path . . .
to get a closer look . . .
but just can't miss any out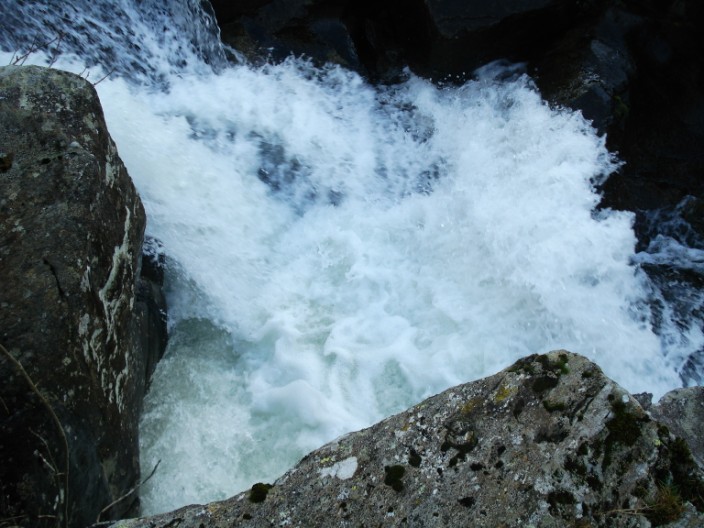 The water churns its way through the gaps . . .
but after the bridge the path lies on the opposite side of the wall