Sunday, 12th June 2011
Walk:
Mardale Head, Gatescarth Pass, Harter Fell, Nan Bield Pass, Mardale Ill Bell, High Street, Rampsgill Head, Kidsty Pike, High Raise, Red Crag, Bampton Common, Haweswater
Start Point:
Mardale Head
Grid Ref:
NY 469 107
Distance:
14.3 miles
Ascent:
4,300 feet
Weather:
Dry in the morning but wet and windy in the afternoon
Accompanied by:

5 members of the group, led by John

Comments:
With quite a poor forecast there was a distinct shortage of cars when we reached the car park, usually pretty full by 9.30am. Heading up the Gatescarth Pass we soon warmed up, but by the time we reached the summit of Harter Fell we were exposed to the cold wind and had to find a sheltered spot for our morning break. After making our way down to Nan Bield Pass it was 'up' again to Mardale Ill Bell, then across to High Street. Having only met a couple of people by this point, High Street was positively busy with most people heading south. A slight detour took us to Rampsgill Head before heading across to Kidsty Pike, where the view of the cairn was spoilt by the addition of a short wave radio mast!
After partaking of lunch in a 'semi-sheltered' spot, we continued on our way to High Raise but with the wind getting stronger and rain threatening we soon continued on our way. By the time we reached Keasgill Head it was decided that we would miss out Wether Hill and make our way down over Bampton Common to Haweswater. By the time we reached the shore path we were out of the worst of the wind but the rain was steadily increasing. We were surprised to pass Coast-to-Coasters on this stretch of the route so late in the day - especially those who were heading for Shap!
Despite the weather it was an enjoyable walk though the pace was a little fast for me (must be getting old!)
Scroll down to see photos of the walk
Looking over The Rigg to Haweswater as we climb to the top of . . .
Gatescarth Pass
Another view of The Rigg and Haweswater as we make our way onto Harter Fell . . .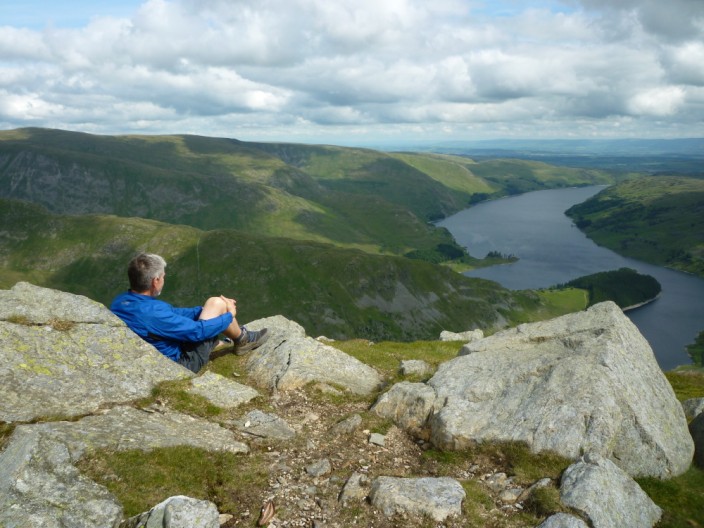 where Ian tries out AW's pose - the only time he put himself in the picture
Blea Water and Riggindale Crag
Robb 'bags' Harter Fell . . .
while I get 'one for the album'
Looking across Kentmere Reservoir to Yoke and Ill Bell
Heading down to the Nan Bield Pass . . .
with a good view over Small Water to Haweswater
Robb 'bags' Mardale Ill Bell . . .
and I pose on a 'bad hair' day
John, the leader, takes it easy on High Street . . .
while I take the 'summit pose'
Rampsgill Head, where it's another . . .
'bad hair' day
Kidsty Pike, before the rain sets in . . .
and a windy visit to High Raise
Looking down Martindale, over Ullswater to the Northern Fells from Raven Howe
Making our way down to Fordingdale Bottom and Haweswater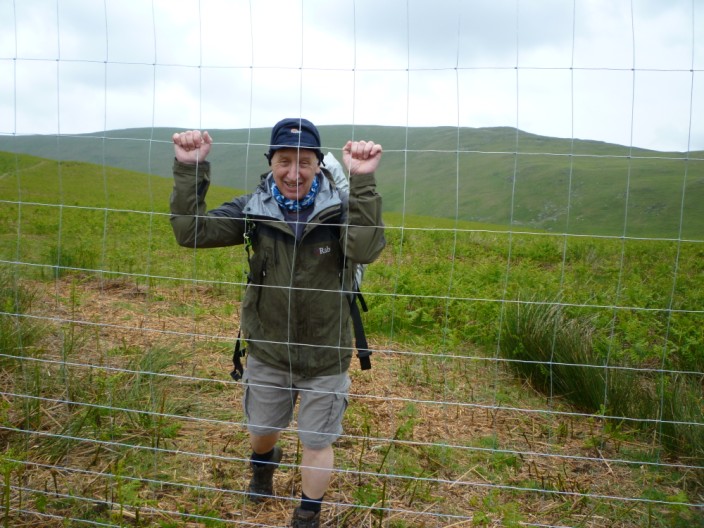 Let me out!!!!!
Foxgloves brighten up the bracken . . .
but time and weather limit the shots I can take
A wet walk along the Haweswater path, part of the Coast to Coast route
A final shot of the waterfall on Whelter Beck