Tuesday, 15th November 2011
Walk:
Hartsop, Hayeswater, The Knott, Kidsty Pike, Rampsgill Head, Satura Crag, Angletarn Pikes, Cat Crag, Brock Crags, Calf Close
Start Point:
Cow Bridge car park
Grid Ref:
NY 402 133
Distance:
12 miles
Ascent:
3,230 feet
Weather:
Thick mist on the first fell tops then sunny for the rest of the day
Accompanied by:

On my own

Comments:
With a good weather forecast and great views on the journey, it was disappointing to see low cloud in the direction I was heading. It was even more disappointing to reach the summit of The Knott in thick mist and no improvement at Kidsty Pike - good job I know my way around these fells. After heading for Rampsgill Head I decided to miss out my planned climb up Rest Dodd and head straight for Satura Crag. Fortunately on the way the weather cleared in the direction I was heading. Angle Tarn was as delightful as ever and proved to be the perfect spot for lunch. From there I took a different path than I had walked previously to climb the northern of the two Angletarn Pikes then a direct route to the southerly summit. Walking to the west of Angle Tarn I made my way across Cat Crag to Brock Crags. From here the path descended diagonally across the southern flanks of Brock Crags to Hartsop and a walk along the road took me back to the car.
Scroll down to see photos of the walk
From Cow Bridge car park the sun highlights the flanks of Gray Crag
Looking into the Hartsop Valley
The bridge takes the path across Hayeswater Gill . . .
to climb the gradually ascending track . . .
to Hayeswater
Looking south-east over Hayeswater clouds descend over the flanks of High Street . . .
while to the north-west there are clear views to Brock Crags
Ascending into the mist as the sun shines on Hartsop
360° mist on the Knott . . .
and on Kidsty Pike
Rampsgill Head is around here somewhere!
Rest Dodd emerges from the low cloud as I head towards Satura Crag . . .
but The Knott still has its head in the clouds
Angle Tarn with the Helvellyn range just left of centre and Angletarn Pikes to the right
Climbing to the right of Angletarn Pikes a blanket of cloud can be seen covering High Street . . .
but in the opposite direction Ullswater peeps through the gap with Place Fell to the right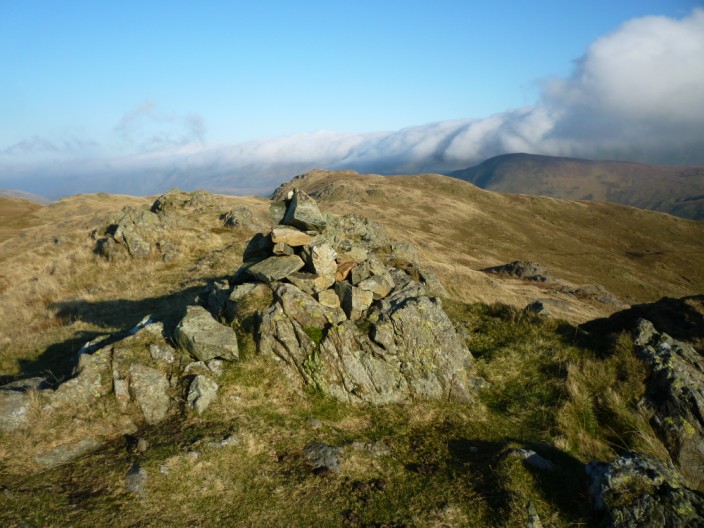 The summit of Angletarn Pikes - with more cloud covering the Wether Hill ridge
Looking over Angle Tarn to High Street and Gray Crag with its plume of cloud
Angle Tarn from the path to . . .
Brock Crags
Brock Crags
Looking back to Brock Crags
High Street and Gray Crag . . .
and another view of Gray Crag with its fluffy hat
A pleasant grassy path descends to Hartsop
Angletarn Beck . . .
where a group of youngsters prepare for some gill scrambling