Sunday, 6th August 2017
Walk:
Ing Lane, Troutbeck Tongue, Park Fell, Thornthwaite Crag, Froswick, Ill Bell, Yoke, Garburn Road (Track), The Howe
Start Point:
Churcg Bridge, Troutbeck
Grid Reference:
NY 412 027
Distance:
12 miles
Ascent:
3,600 feet
Time:
6.5 hours
Weather:
A dry but overcast morning with strong winds and heavy rain in the afternoon.
Comments:
Heading out along Ing Lane a steep climb took us to the summit of Troutbeck Tongue. Making our way along the Tongue we were treated to a display of sheep dogs, and people, rounding up a large number of sheep. A short stop for our morning break gave us the opportunity to check out our onward path ascending diagonally across Park Fell and eventually leading to Thornthwaite Crag where the wind was testing out its strength. Hurriedly moving on we made our way to Froswick for a quick group photo then it was on to Ill Bell. We were fortunate to get a group photo before the mist descended and the rain started. The rest of the walk was in rain, sometimes quite heavy, but at least it had eased off by the time we got back to the cars.
Troutbeck Tongue from Ing Lane . . .
where the group poses with the hay bales . . .
and tries out the various expressions
Fancy meeting you here!
The lone stile . . .
which John decides to cross . . .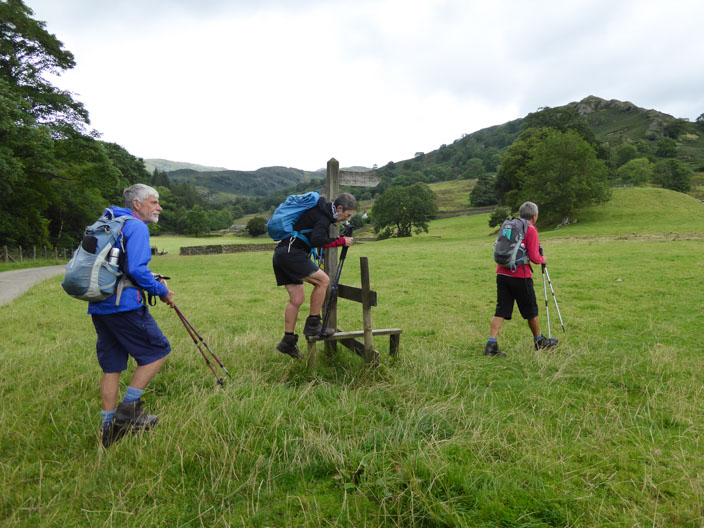 followed by . . .
the rest of the group
Troutbeck Tongue, our first Wainwright of the day
Threshthwaite Mouth with Stony Cove Pike to the left and Thornthwaite Crag to the right
Walking along the ridge . . .
we are treated to . . .
a demonstration . . .
of sheep gathering . . .
with lots of dogs and people
Looking back over Troutbeck Tongue with Windermere in the distance . . .
as we follow the diagonal path across Park Fell
Ullswater can just be seen beyond Threshthwaite Mouth
Approaching Thornthwaite Crag . . .
where there is a very strong wind
Moving on towards Froswick . . .
for a group photo . . .
plus one of the leader
We quickly continue on . . .
and see that Kentmere Reservoir . . .
seems to be severely low on water
From Ill Bell, looking back across Frowick to Thornthwaite Crag
There are three cairns on Ill Bell but the smallest one can only just be seen left of centre
Not much time . . .
to get a group photo before the rain starts
A sheltered spot on the north side of Ill Bell gives us a good view of the descending mist!