Tuesday, 23rd May 2017
Walk:
Nanny Lane, Wansfell Pike, Wansfell, Woundale, Pike How, Stony Cove Pike, Threshthwaite Mouth, Park Fell head, Trout Beck, Ing Lane
Start Point:
Troutbeck, Church Bridge
Grid Reference:
NY 412 027
Distance:
13.5 miles
Ascent:
3,400 feet
Time:
7.25 hours
Weather:
Sunny and warm with a welcome breeze on the tops
Comments:
Checking a variation on a previous route, the climb through the Woundale valley and up to Stony Cove Pike seemed to take a long time - 1,500 feet in 2.5 miles. After descending from Stony Cove Pike to Threshthwaite Mouth I decided to turn the walk round the opposite way for the group walk. Parts of the Woundale Valley and the Troutbeck Valley were rather boggy. The end of the walk took advantage of the off road path from the entrance to Lime Fitt Park to the rocky path that leads to Ing Lane.
Troutbeck Church . . .
which has a very colourful display . . .
of rhodedendrons . . .
of one colour . . .
and another
The herd seems a little docile . . .
but one calf is on the alert
Windermere from the climb to Wansfell Pike . . .
and again from the summit . . .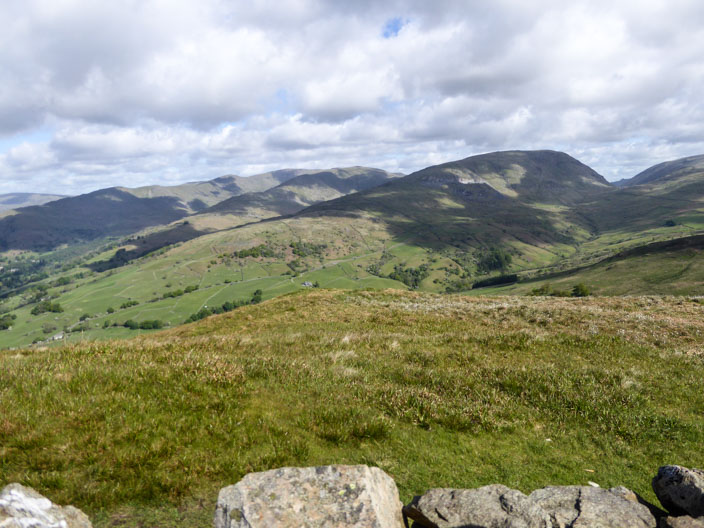 where there are views of Red Screes and Fairfield . . .
and Caudale Moor to the right of the Kirkstone Pass
I haven't seen fell ponies in this area before
Wansfell with Caudale Moor behind . . .
and Windermere in the opposite direction
Looking back down the Woundale Valley
Stony Cove Pike, looking across to Thornthwaite Crag . . .
and Froswick, Ill Bell and Yoke
A steep descent looks down on Threshthwaite Mouth and the climb to Thornthwaite Crag
A new enterprise?
A sign on the gate leading to the farm provides information
Looking back to Threshthwaite Mouth from my lunch spot
An interesting clapper bridge . . .
takes the path across . . .
Trout Beck
Spotting some webs in the hedging . . .
I find that . . .
there are lots of caterpillars inside
Further research reveals the following information . . .
Ermine Moths lay eggs on plants their caterpillars can feed on when they hatch.
Thousands of tiny caterpillars then weave the web over the plants and
themselves for protection from predators.
Caterpillars then gorge themselves on the plants under their cocoon
before pupating into moths