Monday, 9th 2019
Walk:
Neptune's Staircase, Caledonian Canal, Corpach, Caledonian Canal, Neptune's Staircase
Start Point:
Banavie, Neptune's Staircase car park
Grid Reference:
NN 112 769
Distance:
2 miles
Ascent:
-
Time:
3 hours
Weather:
Dry but overcast
Comments:
We were lucky enough to arrive at Neptune's staircase shortly before 2 boats started to move through the locks. Quite a bit of time was spent here as the level of the first lock was very slow to reach the level of the second one, and so on. A short walk took us to the start of the Caledonian Canal, followed by a return on the opposite side.
The large locks take 2 boats at a time
When open the lock gates fit snugly into the wall of the canal
The road bridge
has to be opened first . . .
to allow a large boat . . .
and a smaller yacht . . .
to move into . . .
the first lock . . .
where they fit snugly . . .
and are held in place by tow ropes
All the locks are now controlled electronically . . .
with controls at each set of gates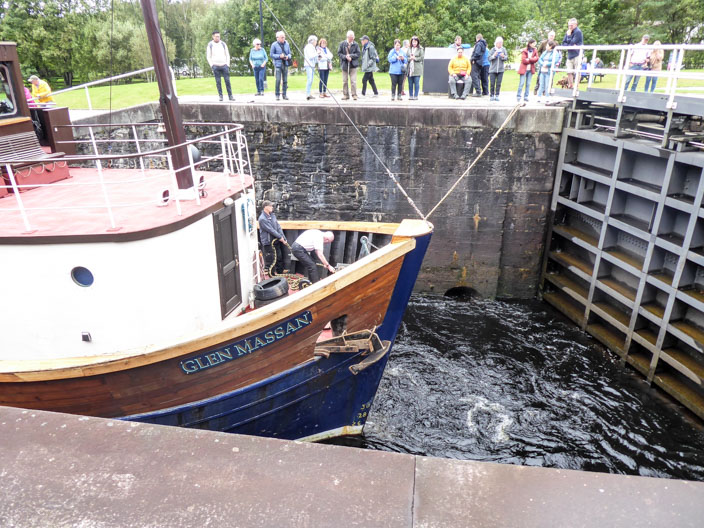 It takes 2 to keep the boat in place . . .
but the yacht is an easier task
The gates start to open . . .
so that both vessels, . . .
watched by a large audience, . . .
can move on to the next lock
Another swing bridge takes the railway line across the canal
From the top of the staircase . . .
we can see the boats making their way up
As we start to cross the railway line we see the Jacobite returning from Mallaig . . .
this time with the engine going backwards
The end of the canal . . .
where boats start their journey . . .
leaving the loch behind
I think this one is staying here for the evening
Returning to Neptune's staircase gives the best view