Friday, 10th May 2019
Walk:
River Wharfe, Strid Wood, Bridge at Strid Wood Tea Rooms, The Strid
Start Point:
Barden Bridge
Grid Reference:
SE 052 574
Distance:
5.5 miles
Ascent:
450 feet
Time:
2.75 hours
Weather:
Sunny spells but a cold wind
Comments:

A gentle walk along the north side of the River Wharfe to take in The Strid before returning along the opposite bank.
The Strid gets its name from the Anglo Saxon 'Stryth' meaning Turmoil or Tumolt; corrupted to Strid, from the possibility of striding across the channel.
Barden Bridge
Strid Wood, one of the largest remnants of sessile oak trees in the Yorkshire Dales . . .
renowned for the flora and fauna, bluebells flower in late April and early May,
followed by wild garlic in bloom.
A narrow section . . .
of the River Wharfe . . .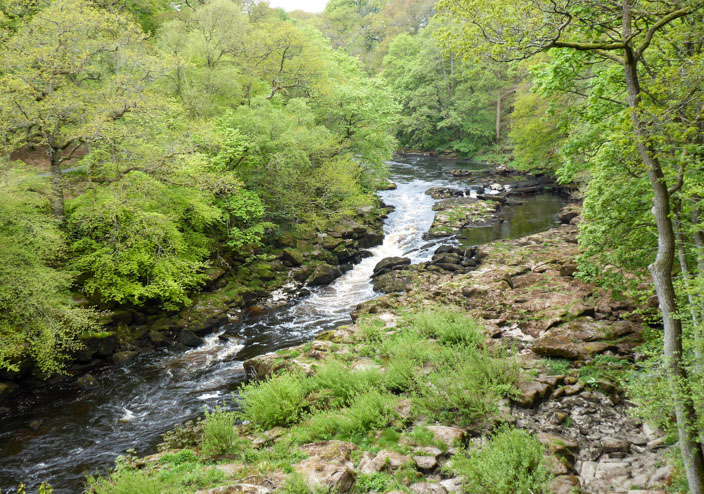 only seen from a distance . . .
on this side of the river
Approaching the bridge . . .
we spot an interesting 'trunk seat' . . .
which is too small for three
Zooming in across the river we spot a Mandarin duck . . .
which was introduced from the far east . . .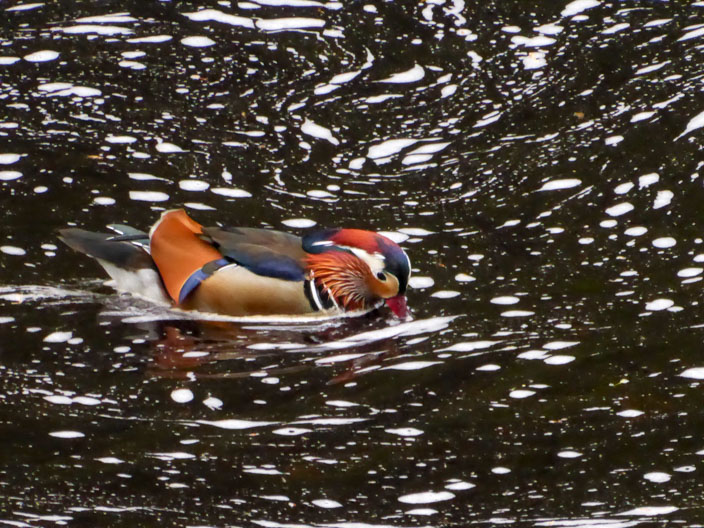 and whose bright plumage . . .
shows that it is a male
The Strid, a natural wonder,
where the river suddenly narrows forcing the water through at great pressure.
The narrow gap on the Strid is only an illusion as both banks are seriously undercut.
Hidden underneath is a network of caverns and tunnels that hold all of the rest of the river's water. Nobody really knows how deep the Strid goes.
The Strid was formed by the wearing of softer rock . . .
by the circular motion of small stones in hollows.
Reflections in the calmer waters to the north of The Strid
Another unusual sighting . . .
we spot an albino Mallard duckling
Mum tries to tempt her family onto the rocks . . .
and the albino poses for this shot
A hawthorn tree on the path we started out in . . .
is more spectacular from this side of the river