Wednesday, 4th January 2017
Walk:
Edge Lane, Hole Bottom, Hebden Beck, Yarnbury, Bare House, Dales Way
Start Point:
Grassington NP car park
Grid Reference:
SE 002 637
Distance:
8.5 miles
Ascent:
1,200 feet
Time:
4.5 hours
Weather:
Sunny with a cold wind
Comments:
Four of us headed out for this easy walk from Grassington. After passing through Hole Bottom we headed along an old moner's track beside Hebden Beck. With bright sunshine and blue sky this was a very pleasant section of the walk. Making our way across Hebden Moor we were able to read about the history of the mining in this area. After climbing up to Bare House we made our way down to the Dales Way and followed the pleasant green path back to Grassington. A very enjoyable day.
Grassington, with its controversial sandstone plaque
Reaching Hole Bottom . . .
which is overlooked by Care Scar . . .
the route takes us across Hebden Beck . . .
via a stone arched bridge . . .
too shallow to dive into Marie!
Continuing along the old miners' track . . .
we find a sheltered spot for our morning beak . . .
before stopping to check out a kiln . . .
with the hole at the top partly filled in
Yarnbury
Approaching Bare House from the rear . . .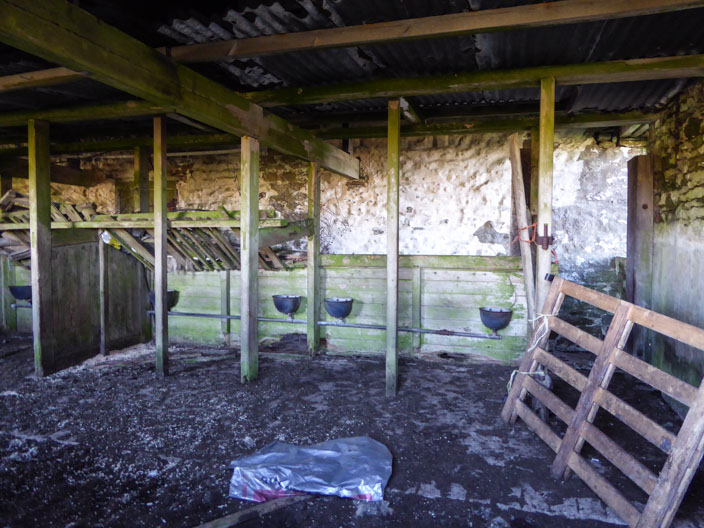 it seems to remain in reasonable condition . . .
but a bit cold for a bath today
The farm itself . . .
still houses a fireplace and stairs
A group of rocks . . .
provide some shelter from the cold wind