Saturday, 11th August 2018
Walk:
Gatecarth Pass, Brownhowe Bottom, Mosedale, Swindale Head, Old Corpse Road, Haweswater, Mardale Head, Gatescarth Pass
Start Point:
Sadgill, Lonsleddale
Grid Reference:
NY 484 057
Distance:
13 miles
Ascent:
3,300 feet
Time:
7.25 hours including time taken to explore Mosedale Cottage
Weather:
Overcast with some sunny spells
Comments:
Having recently used the Gatescarth and Nan Bield Passes to visit Mardale Head, I returned to try out a different route, via the Mosedale Valley. The descent from The Old Corpse Road provides great views of Haweswater Reservoir and Mardale Head but the route through the Mosedale Valley is indistinct at times. It would be difficult to choose which is the better route as they each have advantages and disadvantages.
A couple of heavy showers after the long dry spell
haven't made much difference to the waterfalls
Mosedale Cottage comes into view with the disused quarry on the left . . .
where a trig point shaped cairn has been constructed
Mosedale Cottage is a well- known bothy in the middle of the Mosedale valley
Being part of the Mountain Bothies Association . . .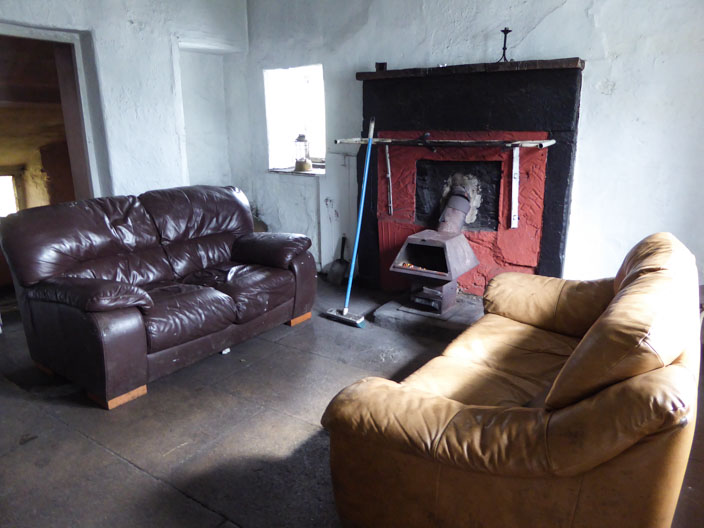 it is well looked after with a lounge to relax in . . .
and a bed platform to sleep on
There are some supplies if needed . . .
and would provide welcome shelter . . .
for anyone caught out on the fells
Swindale Head . . .
is accessed through a kissing gate - deer sized!!
The buzzard seems to have a nest in the trees
Descending from the Old Corpse Road, Mardale Head comes into view
Wood Howe Island . . .
clearly shows the low level of the water . . .
as does The Rigg
A closer look reveals walls . . .
some of which . . .
could have bordered a road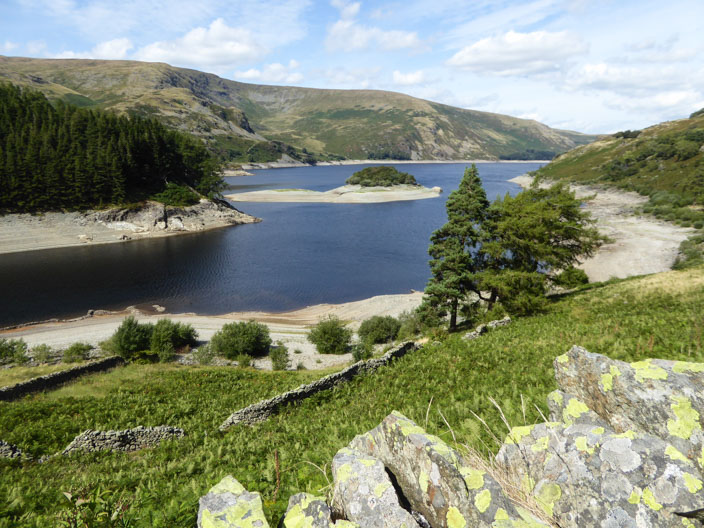 Walking along the road gives the opportunity for lots of photos
This photos was taken on 26th July when the water
reached the wall that extends half way across the gap
Today the water is a few metres away from the wall!
(Picture taken from the opposite direction)
Not a sight you expect to see on the Gatescarth Pass!!
They stopped to ask where the nearest petrol station was . . .
before making a hasty retreat?!?!?