Wednesday, 25th July 2018
Walk:
Gatescarth Pass, Mardale Head, Haweswater, Small Water, Nan Bield Pass, Kentmere Valley, Stile End, Sadgill Wood
Start Point:
Sadgill
Grid Reference:
NY 484 057
Distance:
12 miles
Ascent:
3,240 feet
Time:
7 hours, including time spent walking around the ruins
Weather:
Sunny and hot
Comments:
With the recent heat wave and lack of rain the ruins of the lost village of Mardale have once again been uncovered. So I decided on a walk from Sadgill to Mardale Head, returning via the Kentmere Valley where the Kentmere Reservoir was completely dry.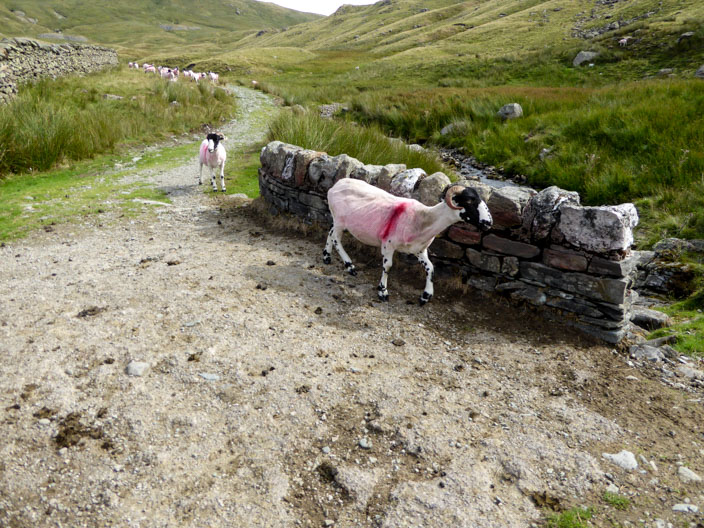 Trip, trap, trip, trap!
The sheep will be thankful . . .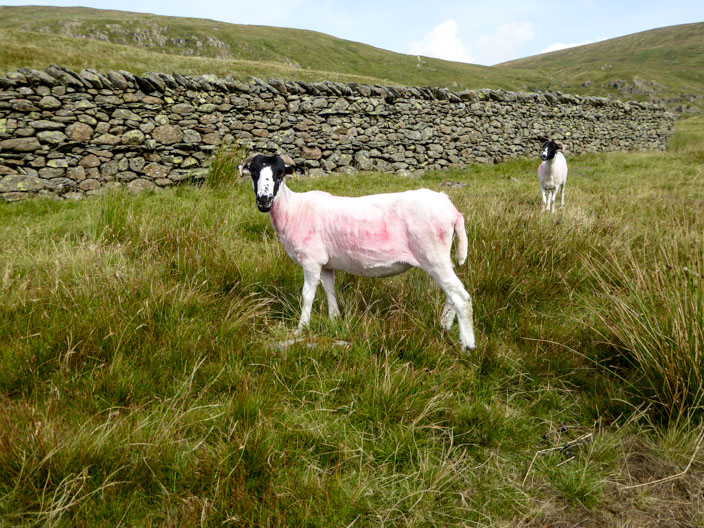 that they have recently been shorn.
Our first view of Haweswater . . .
reveals a large number of visitors . . .
and the dry section of the reservoir
With closer inspection . . .
the ruins of the walls . . .
become more obvious.
Some places are still a little muddy . . .
but most of the area is dry enough to walk on . . .
as the mud becomes baked dry
Standing in the centre looking north . . .
and south
Beyond the cross wall the grass is starting to grow
Mardale Beck still feeds a small amount of water into the reservoir
Leaving Mardale Head behind . . .
we take a look back . . .
and are surprised by an RAF plane flying overhead
A couple of waterfalls . . .
on Small Water Beck . . .
send a miniscule amount of water to the reservoir
The pass is almost in site . . .
as we reach Small Water . . .
and pause on the steep climb to look back at Small Water and Haweswater
I've never seen fell ponies here before . . .
but these two . . .
are quite happy to pose for a photo
Kentmere Reservoir is completely dry
Taking a short cut across the ford - no need for a bridge today!