Sunday, 17th June 2018
Walk:
Langdale Beck, Quarry, Lingmoor Fell, Side Pike (The Squeeze), Blea Tarn, Little Langdale, Cathedral Cave, Slater Bridge, Wilson Place
Start Point:
Elterwater, Walthwaite Bottom
Grid Reference:
NY 329 051
Distance:
12 miles
Ascent:
2,650 feet
Time:
6.25 hours
Weather:
Intermittent showers
Comments:
Having previously walked over this fell from the Great Langdale end, today's route was in the opposite direction. This meant that the Langdale Pikes were in view for much of the time between the summit and Side Pike. For those who hadn't been to The Squeeze previously a new experience lay in store.
After heading past Blea Tarn to Little Langdale we decided to take a slight diversion to visit Cathedral Cave near Slater Bridge.
The Cathedral quarries are a small network of inter-linked quarries above Little Langdale. The system is best known for its main chamber, which still stands forty feet in height, and is lit by two windows off the main quarry. They are frequently referred to as Cathedral "Cave".
The forty foot high chamber is known as "The Cathedral".
The quarries here produced a rich green slate, or more correctly in geomorphology terms Borrowdale Tuff: a volcanic ash some 450 million years old metamorphosed by heat and pressure into the rock we see today.
Crossing the bridge over Langdale Beck . . .
we make our way up to the quarry . . .
where a huge volume of rock has been removed
The employees have brilliant views of the Langdale Pikes
Chapel Stile from a higher vantage point
A slight detour to explore a tunnel . . .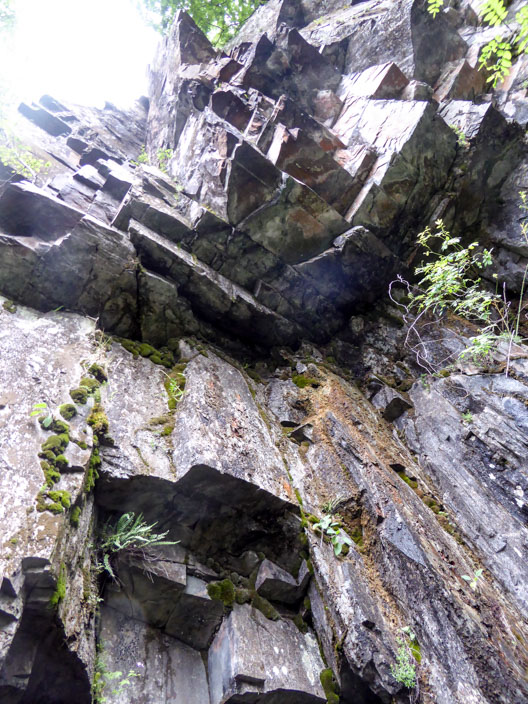 which has an impressive rock face above the entrance
A torch would be required to explore the full depth of the cave
Ray inspects the lock on the gate as Ian uses the foot plates to climb over it
Coffee break at one of the shelters in this area . . .
as I had disappointingly missed the slate bench used on the recce in April
Robb inspects the view . . .
as Tony tackles the stile . . .
to reach the summit . . .
of Lingmoor Fell
One of the many views of the Langdale Pikes with Mickleden and The Band to the left
Blea Tarn, part of our onward route
How many Ramblers can fit round a kissing gate?
The impressive rock face of Side Pike . . .
where the path leads to . . .
the narrow gap . . .
known as The Squeeze
John stands ready . . .
to help with backpacks . . .
for those . . .
who want a helping hand
Job done - but who left their poles behind?
The Langdale Pikes tower above The Old Dungeon Ghyll Hotel
Low cloud covers Lingmoor Fell as we walk through Little Langdale
One of the entrances to . . .
Cathedral Cave . . .
where a second level opening provides enough light . . .
to capture a group shot . . .
and explore the various aspects . . .
including another tunnel . . .
and the colours in the rock
The group poses on the 17th century packhorse bridge . . .
before crossing the beck and heading back to the cars