Friday, 25th September 2020
Walk:
Hanlith, Pennine Way, Janet's Cave, Hawthorns Lane, Weets Top, Calton Moor, Pennine Way, Green Gate, St Michael's Church
Start Point:
Kirkby Malham opposite Church
Grid Reference:
SD 893 609
Distance:
8.7 miles
Ascent:
1,415 feet
Time:
4.75 hours
Weather:
Sunny with a strong, cold wind
Comments:
The beginning and end of the walk followed the Pennine Way beside the River Aire and took in pleasant woodland to Janet's Foss. The route up to Weet's Top provided good views of the limestone wall field boundaries but the 2.75 mile track to Calton was a little tedious. The next section of the Pennine Way was very pleasant and we finished off with a walk around Kirkby Malham church.
Crossing the River Aire to join the Pennine Way
Malham Cove comes into view . . .
beyond what looks like a weir
The pleasant woodland leads to . . .
Janet's Foss which has been used as a natural sheep dip for local farmers, a location for family swims and celebrations and may even be the home of Jennet the queen of the fairies in a cave behind the falls or another small cave to the right
Viewed from above . . .
gives the opportunity . . .
to try out different settings on the camera
These are the remains of a medieval monastic wayside cross. The cross was restored in 1955 and only the base or socket stone is original. The base is made from gritstone and stands near the junction of five townships so may have been important as a boundary stone as well as a route marker to and from the Fountains Abbey estates on Malham Moor
Weets Top with Marie & Sheila . . .
and me
Looks a good spot for a break - but not today
Playing around with different settings again . . .
beside the River Aire
St Michael's Church . . .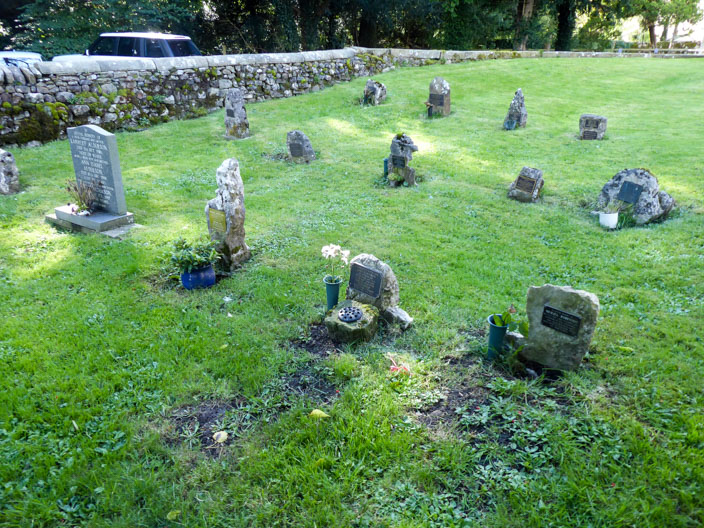 where there are some unusual headstones
In the northwest part of the Churchyard is "The Watery Grave" marked by a tall marble cross. It is told that Colonel and Mrs. John Harrison were separated for long periods due to John's frequent service overseas and Helen decided (with a touch of Victorian whimsy) that as water had separated them so often in life so it should in death. She therefore arranged that the small stream which runs across this grave plot should separate their final resting places. Helen died in 1890 and was buried on the south side of the stream. John died in 1900, but it was found that the north side was impenetrable rock - so John was buried on the south side with Helen after all.