Sunday, 12th July 2009
Walk:
Caudale Moor, Threshthwaite Mouth, Troutbeck Tongue, Troutbeck, Wansfell Pike, Wansfell
Start Point:
Kirkstone Pass car park
Grid Ref:
NY 401 081
Distance:
12.5 miles
Ascent:
3,200 feet
Weather:
A light drizzle for the first hour but fine for the rest of the day
Accompanied by:

13 members of the group, including 4 from the Lancashire Weekend Walkers Group

Comments:
Starting at the side of the Kirkstone Inn we climbed, through drizzle, to Caudale Moor. Stopping only briefly at the cairn (Wainwright) we made our way down the steep, rocky path into Threshthwaite Mouth. The weather cleared as we continued over Park Fell Head and on to Troutbeck Tongue where we stopped for a very pleasant lunch in the sun. After the long trek down the valley we skirted Troutbeck to climb up to Wansfell Pike. With the rest of the group taking a different route, 6 of us detoured across to Wansfell to tick off the Wainwright. From here we continued north to meet up with the Kirkstone Pass road and on up to the cars.
Scroll down to see photos of the walk
We are joined by four members of the Lancashire Weekend Walkers as we gather at Kirkstone Pass car park
Climbing up behind the Kirkstone Inn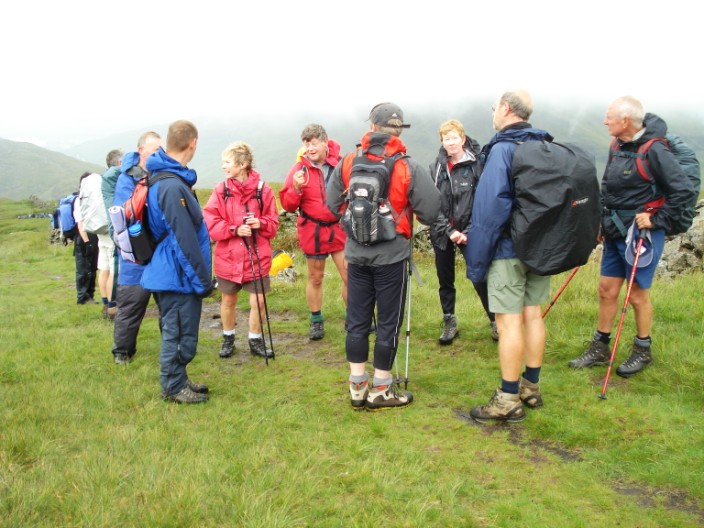 Time for a chat as we wait for the stragglers
Troutbeck Tongue is just just visible through the mist
The route down to Threshthwaite Mouth from Caudale Moor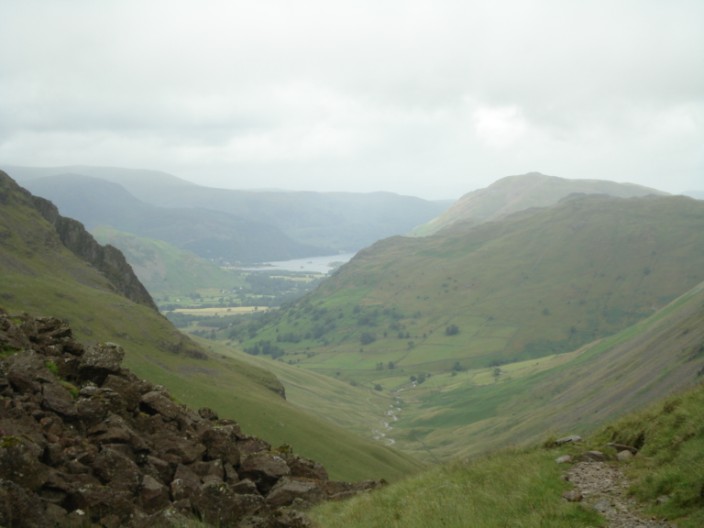 Pasture Bottom and Ullswater to the north . . .
and the climb up to Thornthwaite Crag to the east - two walkers are about to start the climb
Looking back to the descent from Caudale Moor as we head over Park Fell Head
The weather is much improved as we reach the summit of Troutbeck Tongue . . .
from where we have a good view down the valley to Windermere
Descending Troutbeck Tongue we nearly disappear in the bracken
Looking back to the south face of Troutbeck Tongue
Skirting Troutbeck we take time to adjust the layers
Windermere from the climb up to Wansfell Pike . . .
and again from the Pike itself
Wansfell - the Wainwright
One of the many new stiles I have seen in the Lake District this year
Return to 2009 Diary Return to top