Wednesday, 29th October 2014
Walk:
Brock Crags, Angletarn Pikes, Satura Crag, Rest Dodd, Rampsgill Head, Kidsty Pike, The Knott, Hayeswater
Start Point:
Hartsop
Grid Reference:
NY 410 130
Distance:
9 miles
Ascent:
3,500 feet
Time:
6.25 hours
Weather:
A perfect Autumn day with lots of sun and very mild
Comments:

Hoping to spot some deer and stags I planned a route from Brock Crags to Hayeswater, taking in a few Wainwrights along the way. Good weather was forecast but we couldn't believe just how brilliant it was, never needing a jacket and walking in just a base layer for some of the time (and trousers of course!) - at the end of October.

What a treat - reaching our first summit, Brock Crags, we found a large group of hinds with a stag watching over them! They soon saw us but were far enough away to be happy staying where they were for quite some time. Continuing on our way we found that many had moved to the next area we thought we might see them.

Countless photos later we headed for Angletarn Pikes, Rest Dodd, Rampsgill Head and Kidsty Pike before returning via Hayeswater, now changed back to the tarn it used to be. It is useful to note that a footbridge is now a little futher down the beck, out of sight from where the bridge used to be.
Hayeswater
Walking just past Brock Crags we spot a large number of deer . . .
and spend some time choosing small groups . . .
and zooming in
Is this mother and daughter?
These ones don't bother to stand up . . .
but they are all keeping an eye on me
Ian spots 'the boss' . . .
and I just can't resist . . .
taking lots of photos . . .
as he keeps a lookout all around . . .
and possibly tasting the air!
A slight break from deer - I check the views to Glenridding
but then it's back to the deer . . .
and the stag . . .
who hasn't forgotten us
Mother and daughter again?
The summit cairn provides a good spot for our morning break . . .
with good views to Brothers Water and High hartsop Dodd
We set off towards Angle Tarn Pikes . . .
and find the deer have moved in our direction . . .
but are still very much aware of all that is going on
We are just so lucky . . .
to have found the group in a relaxed mood . . .
giving us time . . .
for lots . . .
and lots . . .
of photos
This group is soon joined . . .
by the stag . . .
before making their way back . . .
to where we saw them first
The southerly summit of Angletarn Pikes . . .
from where there are views across Angle Tarn . . .
and down to Brothers Water . . .
and across to the Roman Road
Glenridding from the northern summit . . .
which is the Wainwright . . .
Our route takes us round to the opposite side of Angle Tarn . . .
to Rest Dodd, looking down to The Nab . . .
and across to Rampgill Head
Is this the arete that Wainwright mentions?
From Kidsty Pike we can check the level . . .
of the water in Haweswater Reservoir . . .
and Ian checks out the views before we leave
The Knott with Rampsgill Head to the left
Heading down to Hayeswater which has recently been returned to a tarn . . .
by lowering the water and removing the dam . . .
With heavy rain the previous day the water is gushing into the beck . . .
a different picture two weeks ago . . .
when I crossed easily at this point . . .
but not today . . .
we'll head for the new bridge instead
There are a number of waterfalls . . .
to keep the camera busy . . .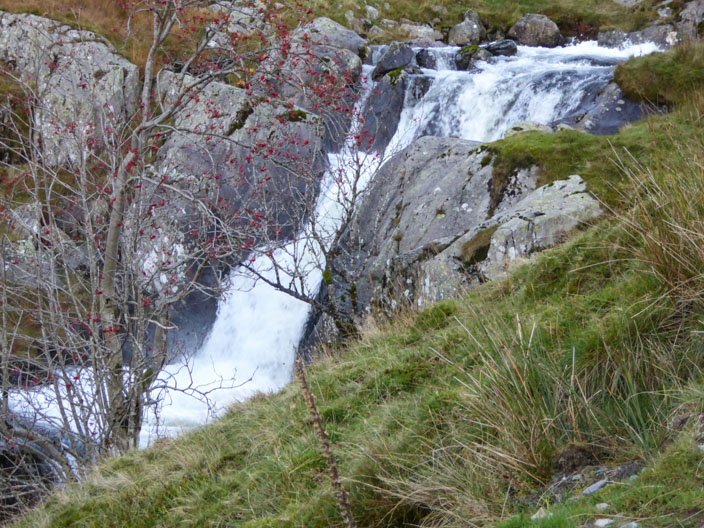 on the route down . . .
alongside the beck
Luckily I had just taken this photo . . .
when a jet flew by . . .
followed by a second one
More evidence of the effects of the recent rain . . .
when we check out the photos from 2 weeks ago
Room for one more?