Thursday, 12th May 2016
Walk:
Troutbeck, Nanny Lane, Wansfell (Baystones), Kirkstone Pass, Ravens Edge, Caudale Moor (Stony Cove Pike), Threshthwaite Mouth, Troutbeck Park, Town Head, Troutbeck
Start Point:
Church Bridge, Troutbeck
Grid Reference:
NY 412 027
Distance:
13 miles
Ascent:
3,500 feet
Time:
7 hours
Weather:
A sunny, warm day with strong winds
Comments:
Most of the ascent was in the first half of the walk and was made more difficult by a strong head wind. The path from Threshthwaite Mouth varied from being intermittent to a pleasane green path to a rocky track. After crossing the interesting clapper type bridge Trout Beck became a pleasant companion for a short time. A goo walk on a beautiful day.
Heading out past Troutbeck Church
Wansfell with Windermere to the left and Wansfell Pike to the right
In the opposite direction, Red Screes to the left and
Caudale Moor to the right - my next summit
Looking south, Kidsty Pike to the left and Thornthwaite Beacon to the right
Arriving at Caudale Moor, Froswick, Ill Bell and Yoke can be seen
The descent from Caudale Moor gives a good view of the scree ascent to Thornthwiate Beacon
Turning right from Threshwaite Mouth takes me down into the Troutbeck Valley
During my lunch break I was lucky enough to spot this bird . . .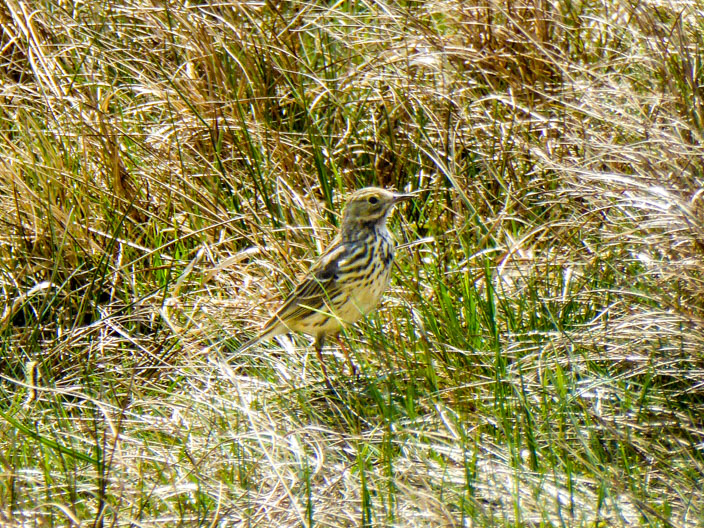 which stayed still long enough to get a close-up shot
Looking back up to Threshthwaite Mouth
An unusual footbridge crosses Troutbeck . . .
with slabs of rock balanced on a number of stone pillars
A picturesque Trout Beck
Time for bluebells
Rhodedendrons in full bloom